The InterContinental' s Marvelous BBQ Seafood Buffet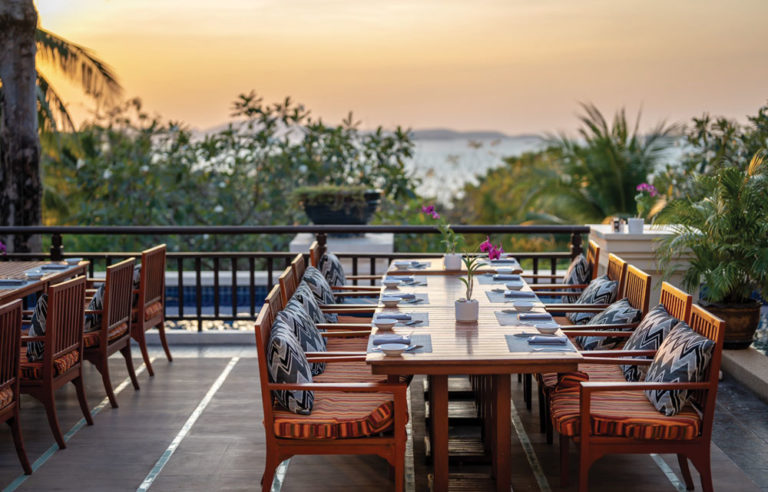 As a friend of mine remarked the other day, "The InterContinental Pattaya Resort is just pure class". Everything from its location with stunning sea views and beautiful flower arrangements, to the tasteful decorations and attentive, friendly staff. Also, it scores points for the general ambience, especially in its dining areas where the lighting is not overly bright and yet not so dark that it is impossible to read a menu or sometimes even see what you're eating. It was therefore pure joy to visit the Marvelous BBQ Seafood buffet and to make sure that for your sake, dear reader, we would sample as much of it as possible, planning our strategy with military precision.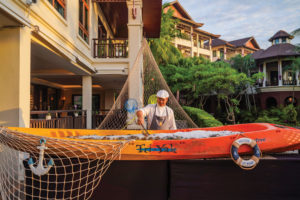 As we were seated on the terrace outside – with wonderful sea views and breezes (helped by giant fans) we thought we should begin with the nearby barbecue. We also guessed that a general love of seafood from our fellow diners would mean that this area would become increasingly popular as the evening went on, so we decided to get in early. However, I have to say the staff kept everything plentifully filled throughout the evening with Rock Lobster, giant prawns and freshly barbecued crabs displayed in an ice-packed canoe – which was a nice touch! All accompanied by a delicious freshly prepared Somtam.
Then it was time to go inside and straight to the sushi of which there was a tremendous section right next to smoked fresh salmon, and oysters that of course had to be sampled with the accompanying sauces. I then found myself opposite the cold cuts and cheese station, and well that had to happen. From Brie and Camembert to a tangy blue cheese with very pleasing additions of walnuts, strawberries, olives and grapes it was all great. I decided to accompany my cheese with some salad from a selection which was pleasingly inventive. I tried a crunchy green mixed salad with onion and ricotta and a delicious mango option.
Feeling suitably healthy it was then on to the Meat Fest. If you come to this buffet with someone who is not a great seafood lover do not despair there are plenty of meat alternatives from chicken wings and Thai-style sausages to Beef wellington, Truffle soup and fall-off-the-bone ribs in deliciously rich barbecue sauce. Also, talking of sauce, the roasted duck breast deserves a special mention as it was covered by an amazing berry sauce which was a nice change from the usual orange. The stir-fried chicken with lemongrass was also particularly good and the steamed pork belly with pickled cabbage.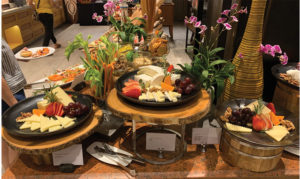 Plenty of rice dishes also available and a dazzling array of bread. A member of our team couldn't resist, especially because of the fresh butter alongside but I didn't have space for the carbs. This was also why I bypassed the pasta station even though it did look very tempting and seemed extremely popular with the children.
It was pleasing to see well-behaved kids really enjoying the buffet particularly the homemade ice cream, popcorn, fruit and chocolate fountain. The dessert table had a tempting variety of goodies for all the sweet lovers including mini creme brulees, raspberry mousse with fresh raspberry garnish, all kinds of large cakes such as mango, strawberry and cream sponge, and small Tiramisu in shot glasses.
Although my taste is usually more towards savoury food I really couldn't resist and was delighted that what I tried was fresh and not at all too sweet, sickly or creamy.
For beverages, soft drink options are many. Rather than a cola or the usual soda water we decided to give Ginger Ale a try,and actually found it worked very well with the buffet. For those of you who might be tempted to one of the accompanying free flow offers there is wine at 1,150 baht (net price) and beer at 550 baht (net price) available for 2 hours – but be sure to allow plenty of room for the food!

https://www.facebook.com/InterContinentalPattaya
Marvelous BBQ Seafood Buffet is THB 1,450 net per person