SUNDAY LUNCH BUFFET - IS IT AS GOOD AS IT LOOKS?

We went to discover what was on offer at the beautiful Andaz, Pattaya, Jomtien Beach Resort. Their "Off the Grill" Sunday lunch buffet at Village Butcher certainly looked fabulous. Was it as good as the enticing advertising? The answer is a resounding Yes!
What impressed us first of all was the stunning resort itself. Andaz,a concept by Hyatt, is located just behind Aquaverse in NaJomtien and extends with sloping lawns and beautiful villas right to the sea and a beautiful beach club – but more of that later.
The buffet starts at 12pm through to 3pm which gives plenty of time for you to enjoy what's there to be had. The cost is 1,990 baht ++ and you can bring 2 kids for free, also, get an early bird discount of 15% when you book 3 days in advance. The price includes a welcome Mimosa and choice from the a la carte menu of either Lobster Benedict or Foie Gras.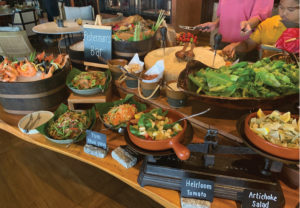 The ambience is spot on with a live saxophonist playing at just the right volume to allow you to enjoy your conversation and the waiting staff attentive but never overbearing. Ready to clear your empty plates and refill your water as required, there also have free flow beverage options.
There is an amazing array of food ready to tempt your including Fine de Claire oysters, sushi, fantastic cold cuts, authentic Thai food options, cheese board and spectacular desserts. However, what I really think is impressive here is the amount of food options you have cooked to order. Seafood, Beef and please save some space for the succulent New Zealand lamb chops.
If you need a little time after all this to digest I recommend a stroll down to the beautiful beach club where you can relax and enjoy the rest of the day! TELEPHONE +66 38 221 234 TO MAKE A RESERVATION