A NEW ADDITION TO JOMTIEN'S GREAT DINING SCENE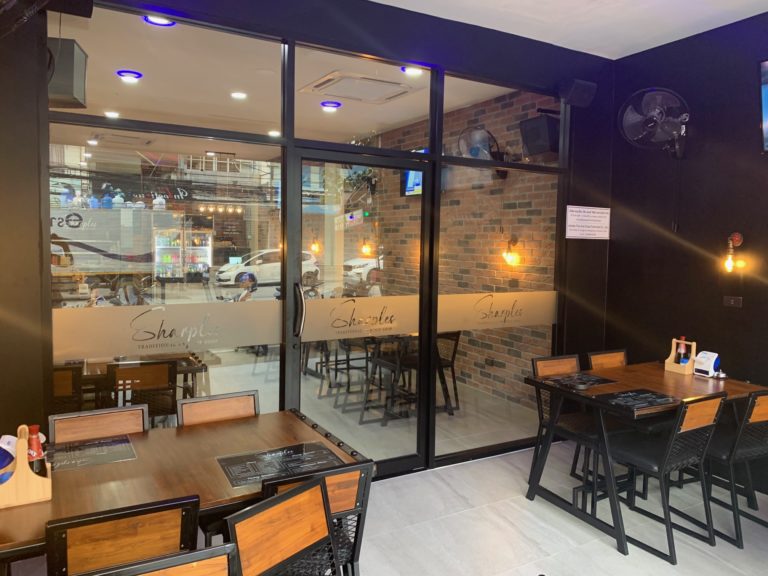 Just across the road from one of our favourite restaurants Natans and a few places up from a favourite bar: Hemingways, there's a new restaurant for us to enjoy. Yes, Sharples traditional fish and chips can now be found not only in Soi New Plaza but also on Thappraya Road, Jomtien.
We had to discover whether the great reviews we'd read about Sharples were justified and so decided to go take a look. Upon entering, the first thing that struck us was the tremendous attention to detail Sharples gives with all its branding. From the standout logo that of course appears on the front of the shop but also throughout the interior. It can be found on the beer coolers, the menu placemats, the staff uniforms, the glass on the front door and even on the fridge.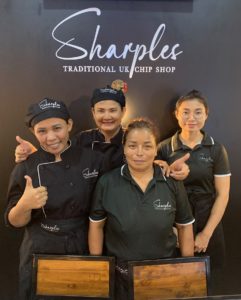 I prefer this location to Soi New Plaza as there's more seating, great lighting and I particularly like the nice touch of having USB charging stations in the wall at every table. As someone who is always running out of battery charge on my mobile phone, this is a nice and very welcome touch.
Prices are good. The Atlantic Cod, Chips, Side and Sauce was just 299 baht with the same price for Haddock, and no cheap Dory substitutes. Of course, the choice had to be mushy peas and tartar sauce. For those of you who have a thing about sauces touching your food don't worry both were served on the plate within their bowls! The cod was white flaky with surrounding batter delicious and don't even get me started on the homemade chips! I challenge you to finish the extremely generous accompanying thick cut portion. Although it was given a good go with a generous sprinkling of Sarsons Malt vinegar.
The other dish we'd heard about was the Salmon Fish Cake 99 baht with chips priced separately at just 99 baht for the same huge helping. I was initially surprised that it was just the one fish cake but there's a reason for that as it's a thick, chunky fish cake and one is certainly all you need – especially with all those chips. Cut so thick they're almost potato wedges and as someone who hates thin french fries as you can probably tell I was very keen!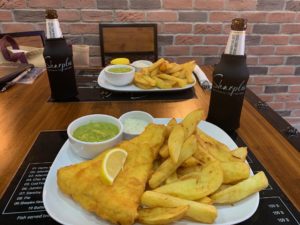 It would have been great to try the saveloy – just for the nostalgia, but the evening we were there they were out – still a good reason to return. They also have pies, jumbo sausage, steak pudding and a great selection on the kids' menu.
The staff are all really friendly and keen to please. I even had a tour of the kitchen to find the potato peeler getting on with peeling huge potatoes. Apparently, there's a state-of-the-art machine that would do all that for her but she just likes the satisfaction of getting through all those spuds
You can dine in or get takeaway from either branch but I would really recommend giving Sharples a try – you won't be disappointed and you will leave very full!