Rugby School Thailand Building a Community of Learners and Achievers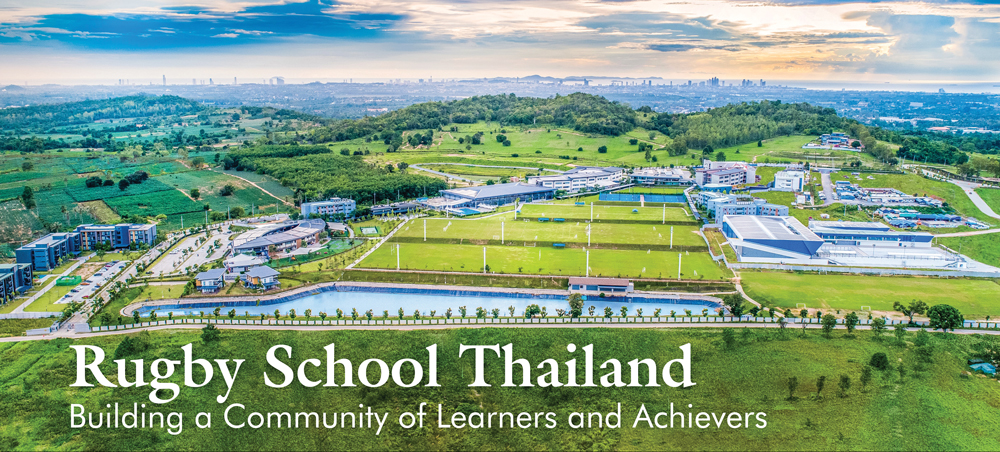 Nestled within the rolling countryside of Eastern Thailand, Rugby School Thailand began with a vision to bring genuine British independent boarding school education to Thailand. The School believes every day is an opportunity to develop intellectually, mentally, emotionally, physically, and culturally. Rugby School achieves this through an extended school day with most students finishing at 6pm, a flexible boarding programme, and a holistic approach that combines academic rigour with an award-winning enrichment programme.
"We aim to improve the outcome of every individual within our School,"- says Mr Bruce Grindlay, Principal at Rugby School. 
Rugby School Thailand is privileged to enjoy a highly-resourced 80-acre campus with an additional outdoor education centre and surrounding facilities that include hiking and biking trails nearby. The School focuses on developing all facets of the person: in other words, a student who is not only academically able but also well-rounded, confident and extremely happy. Thus, the overarching ethos that informs all they do is 'the whole person, the whole point'. 
Teaching Excellence
The School has a large team of experienced teachers and counsellors to help students attain A-Level qualifications, which are widely recognised as the gold standard for university entry worldwide, while also supporting individual applications no matter what goal has been set.  All teachers are professionally qualified with at least two years of relevant experience, demonstrable through impeccable references. Almost all are UK degree holders with postgraduate certifications. Many teachers and leaders within the School hold Masters or Doctorate level degrees too. 
Most classes are set by attainment and ability and are delivered by subject specialists throughout the School. This means that the teachers delivering each class are specifically knowledgeable, well-qualified, experienced, and, very significantly, super enthusiastic about the subject they teach, which helps not only with understanding but importantly with student motivation.
Creativity and Recognition
Rugby School Thailand encourages innovation and creativity in many ways, and the School has been repeatedly praised in inspection reports for how teachers integrate technology to enhance learning. 
Recently winning the Innovation and Creativity in Learning award at the prestigious International Schools Awards (ISA) 2023. The School has also been recognised and accredited by several organisations, including The Council of British International Schools (COBIS), British Schools Overseas (BSO), Education Development Trust (EDT) and the International Schools Quality Mark (ISQM), Federation of British International Schools in Asia (FOBISIA) and the International Schools Association of Thailand (ISAT).
Launch of Saturday English Programme
Rugby School Thailand wishes to support students who would benefit from an education at an International School but who currently cannot gain a place as they need the required English language levels. Mr Grindlay shares, "To help this group of students, we will launch an English for International Schools Saturday English programme." This is not for students currently attending Rugby School but is for any student with beginner English aged 10 to 12 who may aspire to an international school education.
www.rugbyschool.ac.th Facebook: /rugbyschoolthailand  Instagram: /rugbyschoolthailand