London crowned world's best city brand.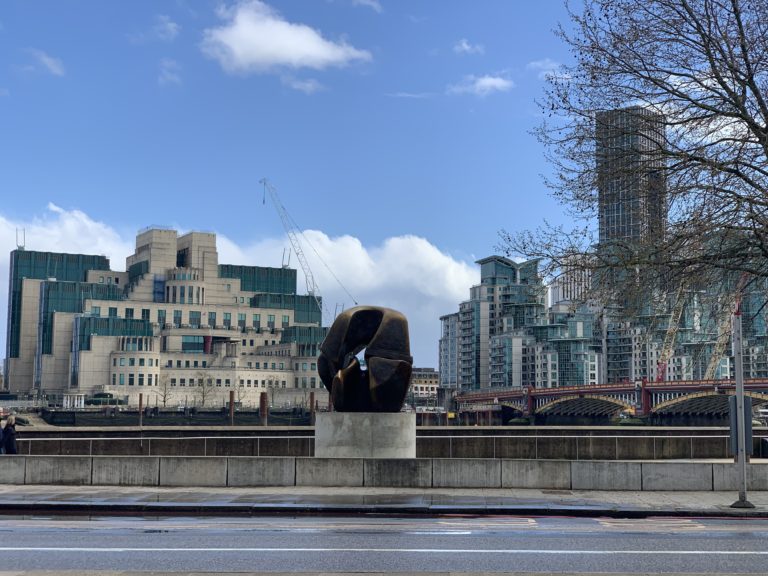 London has been named the best city brand in the world, followed by New York and Paris, by the inaugural Brand Finance City Index. The ranking is based on a global survey of close to 15,000 members of the public conducted in April 2023 in 20 countries on all continents to measure perceptions of the world's top 100 cities. With a score of 84.6 out of 100, driven by its high familiarity among respondents worldwide, London has recorded stronger brand perceptions than any other city in the study.
To arrive at a comprehensive assessment of the city brands in the ranking, alongside measuring familiarity, the survey asked the respondents about the general reputation and their personal consideration of each city as a place to live, work locally, work remotely, study, retire, visit, or invest in. The evaluation of preferences across these seven dimensions was complemented by perceptions of 45 underlying city brand attributes, grouped under seven pillars, such as Business & Investment or Sustainability & Transport.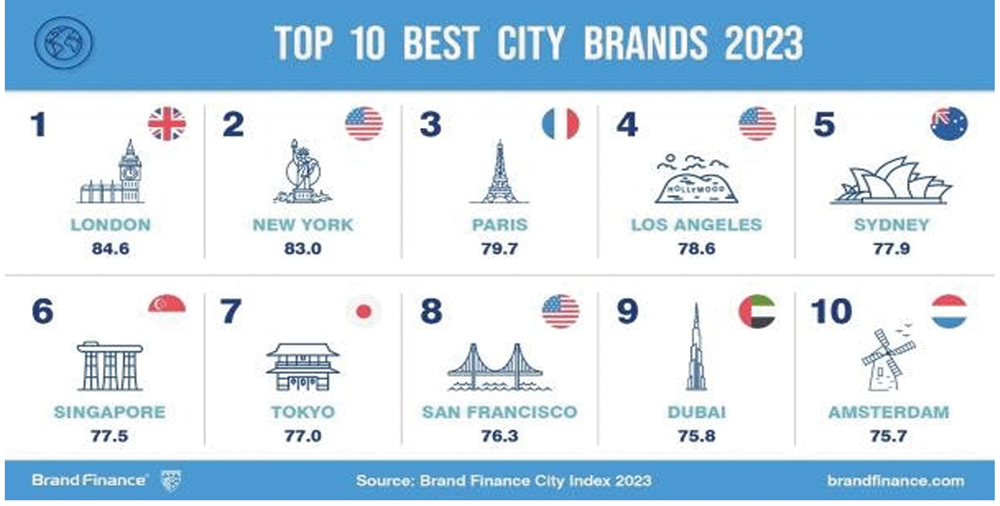 Crowned as the overall winner, London ranks 1st in two of the seven key dimensions – study and visit – as well as in the top 4 in all other ones. London is ranked as the best city globally to study. The British capital hosts top universities – such as University College London, King's College London, Imperial College London, and the London School of Economics, while prestigious schools in and near London that prepare for university – like Eton and Harrow –attract students from around the world. It is no surprise that the city comes 1st globally for great universities and great private schools.
Thanks to iconic landmarks like the Houses of Parliament, Buckingham Palace, and the Tower of London, and renowned cultural institutions like the British Museum, National Gallery, and the West End theatre district, London is a prime tourist destination. London's top global ranking as the best city to visit, is supported by its 3rd place for great museums and art galleries and great theatres and music venues. The appeal of London can also be attributed to its strong identity and character, where London ranks 3rd globally.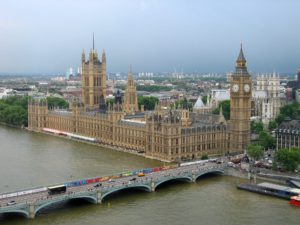 New York City secured 2nd spot, with a Brand Finance City Index score of 83.0 out of 100. NYC also ranks 3rd globally in familiarity and boasts 2nd spot in three out of the seven key dimensions: invest, study, and visit. Ranking 1st for great shopping, restaurants and nightlife venues, home to Fifth Avenue shops and Broadway theatres, NYC lives up to its name as the 'city that never sleeps'. As a result, NYC ranks as the 2nd best city in the world to visit.
Paris rounds off the podium, coming 3rd in the ranking with a Brand Finance City Index score of 79.7 out of 100. Paris is also ranked as the world's 2nd most familiar city boasting an abundance of renowned attractions, including the Eiffel Tower, the Louvre Museum, and the Moulin Rouge,
Ranking 1st across the Middle East & Africa, Dubai comfortably makes the top 10 of the world's best-perceived cities. The 'City of Gold' is a major shopping destination for jewellery and has performed well across multiple Business & Investment attributes, ranking 1st for future growth potential, 2nd in strong and stable economy, and 3rd behind only New York and London as a city of global significance.
From Australia, Sydney ranks 5th overall, standing out as the best city to live in and 2nd best to work and retire in. Singapore, 6th in the ranking, and Tokyo, 7th, are the best perceived cities from Asia. Singapore boasting strongest perceptions globally for startups and innovations and Tokyo ranking 1st as the global leader in science and technology.
David Haigh, Chairman & CEO of Brand Finance, commented: "London's exceptional performance in the Index can be attributed to its global familiarity. Coming first on this particular measure, London has a huge advantage over its peers, leading to its success in ranking overall as the world's best city. Knowing a city allows the public to form positive perceptions about it – to recognise its reputation and to consider it as the preferred place to live, work, study, retire, visit, or invest. High familiarity means a deeper understanding of its qualities and a broader reach of its appeal, allowing the city to draw significant economic benefits from inbound migration, investment, and tourism."
Brand Finance is the world's leading brand evaluation consultancy. Bridging the gap between marketing and finance for more than 25 years. To view the full list of 50 countries go to