James Lee Valentine Walking from Pattaya to Phuket to raise money for take Care Kids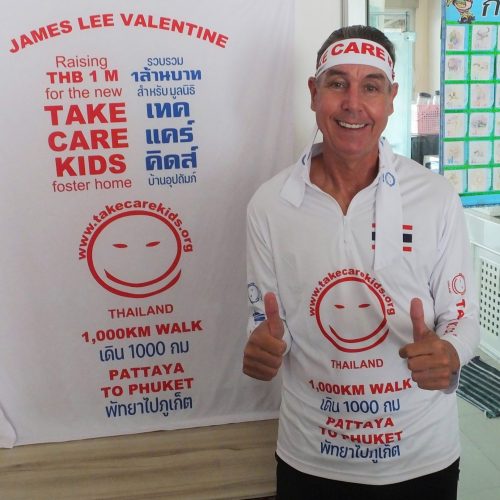 James Lee Valentine ( AKA"Wild Wolf")  is going to do something quite extraordinary. He is going to walk 1000 km from Pattaya to Phuket to raise money and awareness for the Take Care Kids Family Home. 
No stranger to charitable causes  James has raised money by taking part in the London Marathon, walking from Lands End to John O'Groats, and carrying out a walk in the Philippines to raise money for a friend diagnosed with a  brain tumour. What makes this latest endeavour so taxing is, as we all know right now, the intense heat that James will encounter  whilst on his journey. He may also have to watch out for other potential Thai hazards such as snakes, dangerous traffic as well as dust and pollution. His trusty friend Sammy will be following behind to ensure James stays hydrated and supply emergency back up. 
You can follow the whole journey via the "Take Care Kids Walk" Facebook page. Also Pattaya Trader – Discover Pattaya Facebook pages will be keeping track and next month we shall give you an update on James' progress. 
Donations can be made to the Take Care Kids Thailand Foundation account at Kasikorn Bank account number 584-2-05272-8 or by using the attached QR Code.