Koh Samui – Positive Highlights Part 2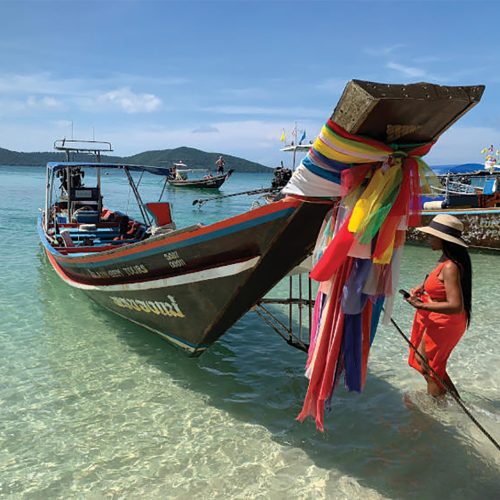 By Kim Waddoup
If you missed Part 1 of Kim's Positive Highlights of Koh Samui that was in the March edition of Discover Pattaya – you can still read it online by visiting pattayatrader.com Ed
We followed the coast road south to Thong Krut Pier for a wonderful noodle breakfast where we were talked into a boat excursion to the nearby Ko Mat Sum and Tean Islands. It is just a short long-tail boat ride out to Koh Mat Sum or Mad Sum Paradise. Sadly now a.k.a Pig Island! Whilst there is a rather cute story of how the pigs supposedly arrived, it is purely a tourist attraction which was hardly needed for this island paradise.
There is a 'landing fee' of THB.100 but this includes 2 bottles of water. Apart from the amusing but rather pungent hogs, the area of the island fulfils every expectation of a tropical island with soft white sand, crystal clear water blue skies and puffy white clouds. I am not a fan of organised boat excursions but I did enjoy this visit and opportunity to take some memorable photos.
The second part of the boat trip was snorkelling off Tean Island. We jumped in to be surrounded by fish that soon disappeared when the captain stopped throwing in bread, what a sad scam. Also beware of the current as we soon found ourselves a long way from the boat despite all attempts to swim back. It was a pleasant boat trip but again sadly over-commercialised for gullible tourists. Back on dry land we completed our loop by returning to Lamai beach for our last night on Samui.
With all our travels in Thailand for the past two turbulent years we have never had the need to book in advance. As we were undecided about where to stay we chose to check out a possible hotel only to find that the room that we were viewing had just been booked online and the alternative was not acceptable.

However this was to our advantage in Samui as we booked a Pool Cottage at the rather run down but nonetheless charming Lamai Chalet for THB.885. A resort on the southern end of Lamai, it is a bit scruffy at the time of staying, but full of character with a beach bar directly overlooking the sea. Again the resort provided sun-beds and towels on the beach so we could enjoy a last swim and questionable dinner in a nearby resort.
After 4 enjoyable nights and days full of memorable experiences it was time to conclude our Koh Samui trip and make our way to the Seatran Ferry for the return to Surat Thani. The ferry cost just THB.550 for the car and 1 passenger and we were positively surprised with the quality and cleanliness of the Seatran Ferry, even serving a reasonable, freshly made espresso!. It was a lovely crossing over the glass like sea.
To summarise, Koh Samui is a lovely island and I can see what many will go just for a few nights in one of the upscale resorts. The commercial areas are accommodating but if you are looking for a special island adventure make your way to the West and South of the island. Travel around these areas and you will be able to enjoy a truly relaxing and original island experience.
For more from Kim Waddoup visit his website https://Meanderingtales.com