Gloria talks to Mr Anthony Justice of Magna Carta Law Firm
Mr Anthony Justice has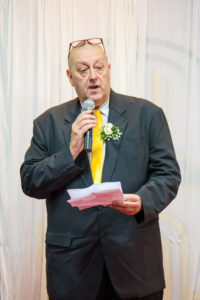 been living in Thailand for 27 years. He first came here because his next-door neighbour in the UK opened a bar in Pattaya and invited Tony to come over to see it. After a couple of holidays here, he decided to follow suit and open some of his own bars. As Tony explains, at that time Pattaya was little more than a fishing village so there was very little for foreigners to do here other than just own bars.
Fast forward some 8 years and as the city began to grow a law firm by the name of Magna Carta was formed to help more and more expats and foreign residents with their legal requirements and problems. Tony was asked to come and join but as he will immediately tell you he is not a lawyer but became one of the first foreigners to work here in a law firm. Magna Carta is now celebrating over 20 years in existence and during all his time with them Tony has been employed as a liaison officer and sales and marketing director. This is a vital position within Magna Carta as approximately 95% of their clients are foreign as opposed to Thai Nationals.
During all this time at Magna Carta Tony has obviously garnered a great deal of experience through following cases and transactions in order to be able to give his advice and opinion. Of course, this is backed up by a large contingent of staff at Magna Carta and as Tony says if he doesn't know the answer he can direct the client to one of the 20 on-site lawyers who do. In addition, there are 5 members devoted to accounting, 4 who handle the firm's marketing and a recently formed Chinese division. In fact, the combined languages spoken by the Magna Carta staff include Chinese, Thai, English, Russian and German
During his time here Tony has seen many changes with Pattaya's hedonistic past evolving into a proper city with organised and enforced rules and regulations. Also as someone who has seen the holding cells from "the right side," he can absolutely confirm that shock tactics are used. Sharing a space with 30-40 people crammed together and usually with just one shared toilet will definitely ensure that even after just one night, you will never want to return.
Magna Carta are a law firm that do everything by the book.  As Tony says "Everything has a process and we follow that process. We make sure problems can't happen rather than trust that they won't happen".
Magna Carta helps their clients negotiate the law and understand any of the new rulings and new methodology. They will carry out due diligence to make sure every eventuality is covered. Be it with a legal case, last will and testament, property transaction or loan agreement. After all, with the city's propensity for keyboard warriors and self-styled "bar room lawyers" – wouldn't you want an informed opinion and the correct legal advice? If so I heartily recommend you speak to Tony and the team at Magna Carta.