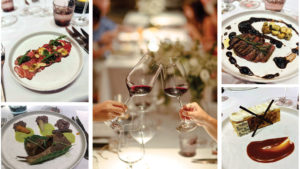 Discover Pattaya was delighted to attend a very special wine dinner at the Renaissance Pattaya Resort & Spa. The evening started with a cocktail at the new beach club after which everyone was seated at Pebbles Bar & Grill for the main event. This stunning restaurant looks out over the ocean and has a delightful open air cocktail bar alongside, making it a charming place to spend an evening.
Wine dinners are becoming more and more popular in Pattaya right now. Sometimes the quality of the food can bit of an afterthought but that was certainly not the case here at Renaissance. The menu was worth the price of admission alone, with Angus Tenderloin, Argentinian Lamb Chop and a Charcoaled Beef Rib Eye, interspersed with a tasting starter, a pallet cleansing sorbet and a marvellous Milk & Caramel Mille Feuille dessert. All created by chef Marco Priolo and expertly paired with an excellent selection of fine Argentinian wines. 
A very nice touch was when a wine expert from Catena Zapata Winery went from table to table to discuss the various wines and give some background on the vineyards. He was a happy man as Argentina had just reached the World Cup final, and must have been a good deal happier a few days later!
The whole evening was a resounding success and could well become a regular event at this amazing resort.