Long-tail boat excursion exploring the islands of Ao Nang, Krabi
   By Kim Waddoup
Last month Kim wrote about his trip to Phang Nga.  This month we follow him to Ao Nang to find out about his Long-tail boat excursion……..Ed.
It was time to visit the photogenic Ao Nang Islands so we booked a 4-island trip in a long tail boat. At Hat Noppharat boat terminal, a lady cashed our THB.2,500 while her husband took us out to his wooden long-tail with a mighty Toyota engine. We were informed that the boat had been his father's before him and that when not out on excursions he was a local Ao Nang fisherman.
We departed the little port with the boat's brightly coloured ribbons flapping in the breeze and headed out into the bay. As with Phang Nga the scenery was overwhelming and all cares were forgotten as we cruised through the tranquil sea. We passed the Tinidee Hideaway Resort on Tonsai Beach which is only reachable by boat due to the tall cliffs towering majestically above it and disembarked on East Railay Beach.

Following a pathway we then walked through to the Ao Phra Nang Beach. Unfortunately due to the high tide we were unable to visit Phra Nang Cave. Phra Nang also referred to as Princess Cave has many colourful Linga inside. These are rather phallic shaped statues, meant to represent the Hindu god, Shiva. Despite the setback at not being able to see these, we rejoined our boat tour to continue into the bay and on to Koh Poda.
Koh Poda, is an idyllic tropical island which appears to be the chosen 'lunch island' for local speed boat operators. When we arrived we saw many people scattered around the beach eating their styrofoam packed lunches. I found Koh Poda very beautiful but slightly absurd with several hundred people squeezed onto a narrow strip of sand!
Then on to Thale Waek, 3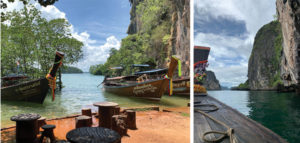 small islands that are normally connected by a sandbank. With high tide the connection is only possible by wading through the water but again, it appeared to be a stopping point for all the tours. The sight of hundreds of rather bewildered tourists milling around on a small area of sand was somewhat surreal. I could not understand the sense of getting off the boat (and having to pay a National Park fee!) just to stand shoulder to shoulder with the masses, so instead quizzically observed the proceedings from the prow of my longtail.
Next step was to stop under some sheer cliffs and go snorkelling. It looked lovely but I have an aversion to jellyfish and on seeing the size and colour of some of these creatures, decided that erring on the side of caution was the best plan of action!
Whilst we could hear a storm rattling around the bay, we were all quite surprised at the speed that it hit. Fortunately, we were on the leeward side of Ko Kai island but, despite the roof, it was a scramble to place everything in the dry bag. Our Captain was unfazed and decided to go swimming- I guess he does not have my fear of jellyfish.
Ko Kai is dominated by a rather curiously shaped natural rock chimney shaped a little like a chicken's head, hence the name Chicken Island. Almost as a signal from the weather gods, lightning struck the chicken head, and some sizable lumps of rock could be seen falling into the sea. A reminder as to how fragile the ecology is here.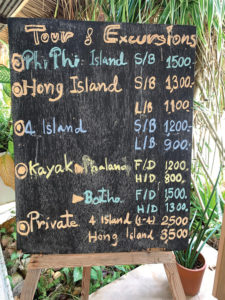 When the rain stopped and the skies cleared our captain offered us an extra excursion with a visit to Koh Ya Wa Bon island. We were only the second boat there and there was a small, idyllic cove with a beach where boats were allowed to stop. The water was warm and clear – this was more our style of island! After this enjoyable stop we then re-traced our route across the bay back to Ao Nang.
At THB.2,500 for the 2 of us in our private long-tail boat it was an enjoyable trip. However I found the choice of some of the islands we visited quite poor especially due to the high tide. When taking a private boat trip like this you can have more flexibility and choose where you want to go. So before my next trip I will certainly research some alternative islands to cruise around. We did love the spectacular views though!.
.