Rediscovering the Moo Baan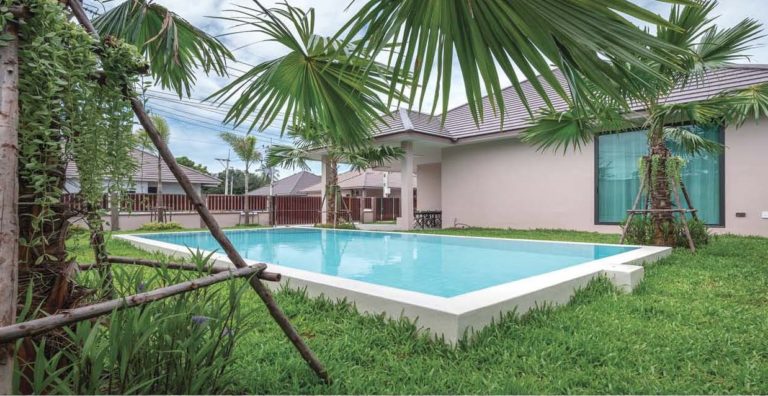 During the reign of King Chulalongkorn from 1853 – 1910 Thailand witnessed the replanning of Bangkok's urban landscape. City walls were torn down, an avenue was built based on the Champs-Élysées in Paris, more roads and railways were built, and the floating markets were turned into Avenues (Soi) with shophouses. That's when Bangkok became a land-based city and ordinary Thai people migrated from the hinterlands to live and work in the inner city.
Post World War II, Bangkok's landscape changed yet again from that of a European city to that of an American style city. US foreign policy in the 1950s aimed to make Thailand a bastion of anti-communism in the region and therefore the United States poured billions into the Thai economy for military subsidies and development funding. At this point Thailand followed the economic development descriptions proposed by the World Bank, promoting privatization and industrialization.
Gated communities, or Moo Baan in Thai, first started to appear in the early 1960s and were a popular Western oriented way for Thais and foreigners to live in comfortable and safeguarded communities on the city's outskirts. Soon enough legislation changed and made the development of gated communities a lucrative and popular investment opportunity. In 1984 Sansiri Development was established and started building the first gated communities with a sense of standardization. In 1987 Raimon Land was founded, followed shortly after by Supalai Development and TCC Group both entering real estate in 1989.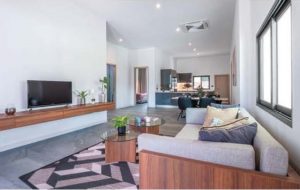 Today Thailand's real estate landscape is flooded with high-rise communities (condominiums) and low-rise gated communities from these major companies. During their early days, standardization was the way to go as buyers knew exactly what they would get for their money. It was so popular that the gated communities of different developers began to look alike as if they were one and the same. Even today, nearly 40 years later we still see the same kind of house with similar floor layout and architecture. The problem today however is the one of a generation which likes individuality and change.
This was heavily felt by Chokchai Group during the development of The Lake Huay Yai in the wake of the global pandemic outbreak in 2019 when selling their newly finished houses was becoming more difficult due to a shortage of buyers. Although Chokchai Group was first established in 1997 by Mr. Phaisan Saesow and Mrs. Sumalee Lochaisakul as a merchant of construction materials in Pattaya, it quickly became a heavyweight in the real estate market by 2019 with over 20 completed developments under its belt.
During the two years of COVID, however, it was very challenging for developers to sell, and a change was needed to attract a younger generation of property buyers post pandemic. This is when Chokchai Group was introduced to Thailand based C&C Investment Syndicate and its subsidiary Deehiy.
Deehiy, pronounced "d-hi" means "home" or "at home" in the language of its Swiss founder Mendes Cavin, and is the spin-off child of Miners Hospitality, a luxury boutique hotel company that developed 12 properties in Asia and the Indian Subcontinent between 2014 and 2020. Deehiy, is a three-legged company made of a real estate developer, a cross-border property agency and a global online real estate marketplace deehiy.com.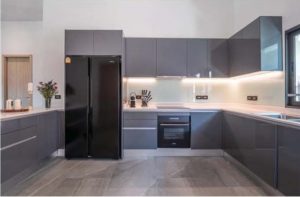 By the time Deehiy had been introduced to Chokchai's The Lake project, around 80% of all construction consisting of over 500 townhouse and single house units had already been finished. However, many were still unsold. Deehiy promised it would lift the level of quality and redevelop interior spaces suitable for today's property buyers. The new design would offer a completely finished house, ready to move in, fitted with European kitchens, modern designed furniture, ceiling recessed air-conditioning units, solar water heaters and imported sanitary ware, all designed based on Swiss quality standards as introduced by Deehiy. At a starting price of only THB 6,800,000 for its Macro house, buyers are given the choice to select certain materials and individualize their new home based on their personal preferences, making it one of the first developments offering such personalization at no additional cost.
At the time of writing, the redeveloped houses have created quite a buzz among real estate agents and buyers, and the project is well underway to sell its remaining units. Chokchai Group and Deehiy have successfully created a Moo Baan game changer and are planning their next move to develop their largest project yet; a fully integrated community built in midst of greenery based on a Swiss lifestyle concept. The project located in a prime location on Siam Country Road in Pattaya will span over 90 rai, and consist of 100 apartments and villas with a 5 rai artificial lake in its center. Based on the philosophy "Space is the ultimate Freedom", Swiss Park will also accommodate a large community mall with restaurants and shops, and residents of the development will have private access to a clubhouse with infinity pool, state of the art gym, kids playground, community barbecue, tennis courts, a basketball court and an onsen spa. If they succeed in their mission, it would not only become a leader in Thai real estate developments, it would also truly establish a new way of   LOVE. LIVING. LIFE.
For more information on Chockchai Group visit https://www.rcp.co.th/
For more information on Deehiy visit https://deehiy.com