Thomas Seeland of Seeland Brewery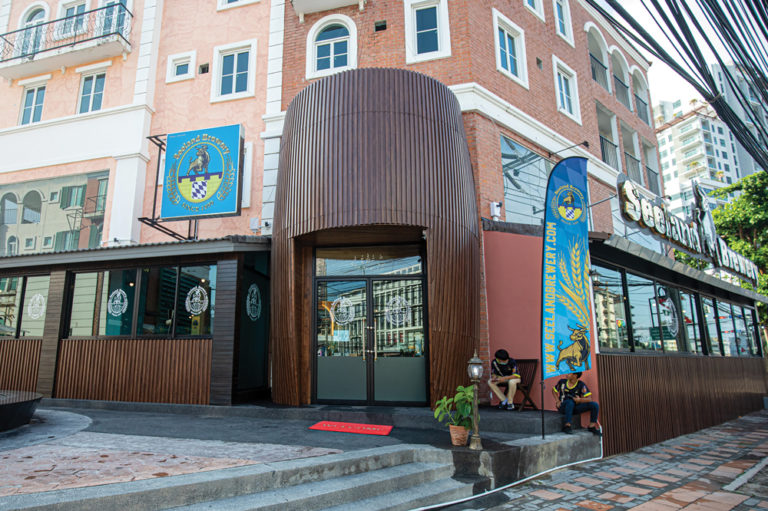 By Gloria Jones
It is rare to find a date as old as 1899 on a logo in Pattaya. So I had to ask Thomas Seeland what it signified on the one for the Seeland Brewery? He told me that it is there to commemorate his Great, Great, Grandfather: Christian Seeland, a master brewer, who founded one of the first independent breweries in America. After leaving his home in Baden, Germany, for the USA, Christian set up his brewery in Iowa in 1859 and manufactured 650 barrels of lager beer a year.
Fast forward to today, and Thomas Seeland is also well known for his culinary skills both as a butcher and a very, good chef specialising in fine German and Bavarian food. Having arrived in Pattaya over 15 years ago in need of a recuperative holiday, he remembers leaving a cold rainy Hamburg in February to arrive at Bangkok Airport at 1 a.m. and find it was hot, humid and still raining. After a taxi ride in the dark,Thomas awoke, drew the curtains of his beachfront hotel and was delighted to be greeted by a sunny, tree-lined sea view and perfect, balmy 25-degree weather. So after a couple of holidays in Pattaya, he decided to return to Germany, sell his business, all his belongings and make Pattaya his new home.
Once an inhabitant of Pattaya, Thomas explored all of the city's restaurants. He was very impressed by the quality of the Thai food but less so by the German meals on offer. A big fan of Currywurst, he was appalled to find this dish served to him with Heinz tomato sauce instead of the traditional homemade curry sauce. It gave him the idea of starting his own restaurant business, and soon after, Best German Barbecue, was born on Pattaya Klang. Thomas quickly built up a very loyal customer base, the most famous fan of his food being His Royal Highness Prince Dipangkorn Rasmijot.
I asked how the Prince came to find out about Thomas' food and he told me that it was at a special event held at the Royal Sattahip Navy base. After tasting the fine German cuisine, His Royal Highness continued to commission Thomas to cook for him, his favourite dishes being Schnitzel and also Pizza – because Thomas always insisted this be served to the Prince whilst still hot!
The Best German Barbecue although very successful with both diners and wholesale customers, was forced to close when its lease could not be renewed, due to planned developments in the area. However, one of Thomas' customers was ready to retire from his restaurant: Bramburi, and so Thomas relocated to Naklua with his wife, who still looks after the diners there.

Thomas was invited to become head chef of a brand new brewery planned for Thappraya road in Jomtien. Many of us curiously drove past this location whilst it was boarded up, eager to see the proposed brewery open, but due to COVID problems the original investors pulled out. Undeterred, Thomas found some new partners and investors and Seeland Brewery Pattaya was open for business.So now we can all enjoy food fit for a future King, accompanied by a range of excellent Seeland beer at Soi Thappraya Alley 10 (opposite Sun Sabella)
Telephone 098 618 1470 Facebook @seelandbrewery Website http://www.seelandbrewery.com