Marrakech Part 2 What you might not expect.

Last month we wrote about the opening up of travel and how the cessation of Test and Go in Thailand has encouraged more of us to travel abroad. An easy hop (especially for us long haul travellers) from the UK and Europe is Marrakech which is generally only a 31/2 hour flight and a place we very much recommend taking a small city break to tag on to your journey. If you the article in our June issue where we wrote about what you might expect to find in this Moroccon jewel please go to our website pattayatrader.com to read it.
This month we want to focus on the more unusual and what could be a surprise when you go to Marrakech. For example, we all know about the souks and their fine array of exotic spices, handcrafted pottery and rugs, but did you know that Marrakech has amazing leather goods with several tanneries in the area. You can even visit these if you have a mind to and although there are also plenty of traditional "Ali Baba" style slippers on display, look a little further and you will see the most amazing pumps and sliders made from the softest leather inside and out – so comfortable and so cheap!
As we described last month traditional Moroccan food mostly revolves around Couscous and Tagine dishes. However, travel down the small alleys deep in the ancient part of the Medina and you will be pleasantly surprised by the variety of wonderful restaurants you can find. Some actually have trees growing in the courtyard. For example, Limoni has fresh lemons growing just in reach of the diners and unsurprisingly features lemon in many of the dishes on its menu.
There are also many others beautifully kept to their early 1920s and 30s styling serving the most amazing French and Italian food with all manner of delicious accompanying wines. In fact, Morocco is the only place (other than Portugal) where you will find you can enjoy "Gris" wine mainly only found in this country and in Portugal, being a very light and refreshing rose
Alcohol is available to over 18s from shops, supermarkets and hotels as well as restaurants although you should check this first when booking a table, and remember that the drinking of alcohol in public (on the street for example) is still very much frowned upon. What you will find however inside the bars and restaurants are the most amazing cocktails skillfully missed and using the wonderful array of available fruits and spices especially the fresh mint and basil that smell amazing as you raise the glass to your lips.
Step outside the ancient walls of the Medina and you will find wide tree-lined avenues, beautiful parks and horse-drawn carriages. A short journey to the west is Gueliz the modern face of Marrakech and the so-called 'New Town'. There are European-style shopping malls and small homeware boutiques aplenty, plus an excellent array of bars and restaurants for a post-retail therapy pit stop.
You'll also find plenty of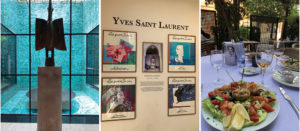 museums including (rather refreshingly) a very interesting Women's museum showing how life has changed for women over the years in this Muslim country and another favourite with visitors the Musée Yves Saint Laurent. This includes a short informative film and a permanent display of hundreds of garments spanning his 40-year career and showing how the sights and colours of Morocco inspired his collections