Putting the Sport into Sport Yacht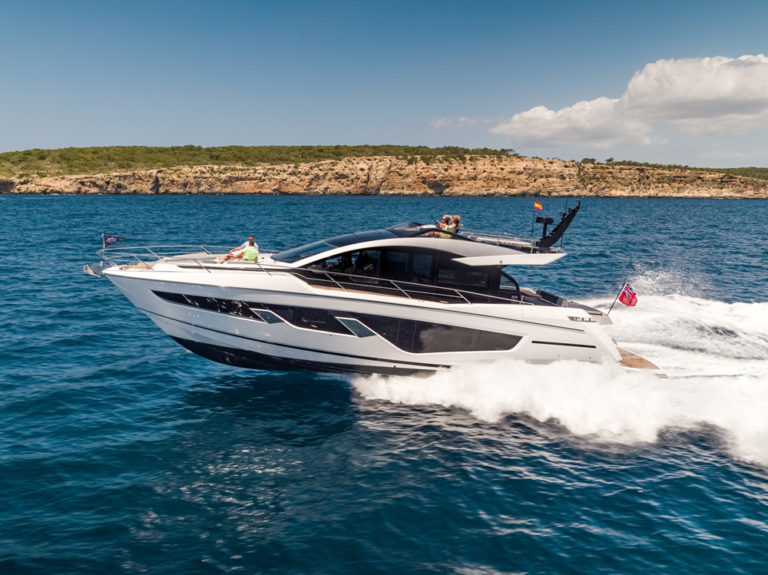 Sunseeker's new 65 Sport Yacht can appear like most yachts in its category – until you climb into the SkyHelm™ racing seats.
Sunseeker's new 65 Sport Yacht provides a sportscar-like driving experience, the twin 1,000hp Volvo Penta 1350 IPS engines giving a top end just shy of 35 knots. A pair of footplates let you plant your feet forward as the boat leans into tight turns while being so high up guarantees you won't hear the engines vibrating. When the driver wants to stand while piloting, such as to get a better view of the immediate waters and surroundings, the wheel tilts up at a 45-degree angle on its long pedestal, a useful feature in tight quarters manoeuvring. The set-up also provides a nice connection with the person in the navigator seat because they also have access to controls if the skipper needs help.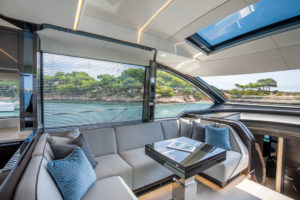 Of course, there's a lot more to like about this Sunseeker, Aft of the SkyHelm™ is the option of a sunbed that offers space for two and a foldup backrest, with a stainless protective rail. It's ideal for sitting at anchor on a calm day, The foredeck, which can be covered by a sail canopy, feels spacious for a boat this size, with a forward sunbed for two and lounge at the rear.
Below decks, the owner's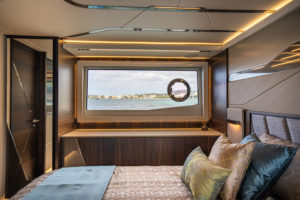 cabin starts with an elegantly designed dressing area and vanity table with a foldout seat. Other options for this port area include a saloon with a sofa facing a TV, a galley or a single cabin. The full-beam master suite midships is generous, with large hull windows with portholes; three or four guest cabins are available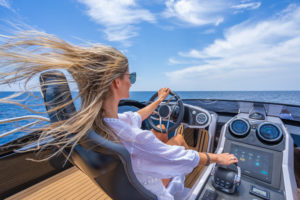 Sunseeker's design team did a great job with the hull profile by giving the glazing a modern twist and incorporating stainless-steel trim between the glass panels that add more complexity to the design. The attention to detail throughout is what you'd expect from a Sunseeker with upscale items like Royal Doulton dining ware and Dartington crystal.
Max Marine Asia is the authorized distributor for Sunseeker Luxuary Yachts.
Contact Craig on 081 9700583