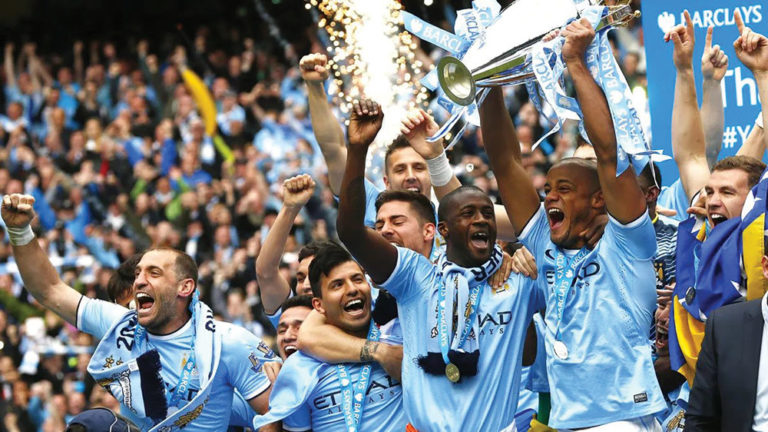 On a pulsating final day in the English Premier League Manchester City came
back from 0-2 behind after 75 minutes of play to pip Liverpool to the title and win it for the fourth time in five years. Aston Villa, managed by former Liverpool legend Steven Gerrard, were on course to help Liverpool pick up their second title under Jurgen Klopp but a fantastic fight back by the home team, including three goals in five minutes, secured the title once again.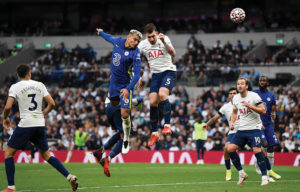 Liverpool themselves had a scare in their last home game at Anfield. Knowing they had to win against Wolverhampton Wanderers, the visitors took the lead after only three minutes and although the Reds equalised in the first half, it took 84 minutes for the second goal to come and pave the way for them to go on to win the game 3-1. Unfortunately for them by that time City had scored the three goals to lead at Maine Road and it was all to no avail. Liverpool fans were preying for an equaliser from Aston Villa but it never came. City had pipped Liverpool by one point with both teams miles clear of the rest.
In the third Champions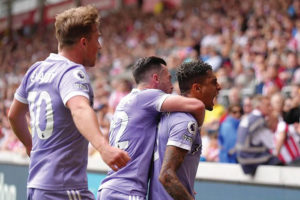 league spot were Chelsea. Spurs, who finished the season in excellent form, under new manager Antonio Conte, finished in the fourth spot The gulf in quality between the top two and the rest must be quite alarming for the Premier League. Even Chelsea, now without the money of Roman Abramovich, will have problems bridging the gap. Antonio Conte has brought about some improvement at Tottenham and Manchester United, after a poor season by their standards, will need to get their act together under new manager Erik ten Hag to get anywhere near the top two in terms of quality and consistency.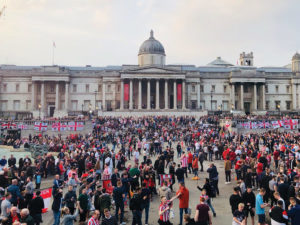 The gap in class at the moment is quite stark. Both City and Liverpool are far superior in all departments compared to the rest of the division outlined by the fact that they score more and concede fewer goals, by some distance, than any other team. Of course you cannot rule out Manchester United, with the new manager coming in and their enormous financial muscle, but the managerial record since Sir Alex Ferguson left has not been good and the club finished this season in a malaise, illustrated by the 1-0 defeat to Crystal Palace on the final day.
In the relegation battle both Watford and Norwich knew their fate some time ago but Burnley and Leeds were still battling to avoid the drop on the final day. On paper neither had an easy task but while Burnley were getting beaten at home by a revitalised Newcastle, Leeds were claiming an excellent away win at Brentford, ensuring their status for another season. 
West Ham had a good season, finishing in 7th place in the table and reaching the semi-final of the Europa League and another performance of note came from Brentford, who were everyone's favourites for relegation at the start of the campaign but finished mid-table with 46 points, playing some attractive football on the way. Congratulations are also in order for Brighton, under the excellent Graham Potter, who achieved a top half finish in the Premier League for the first time in their history. Eddie Howe also did a fine job at Newcastle after being brought in mid season and it will be interesting to see how they progress, given their spending power.
The Championship and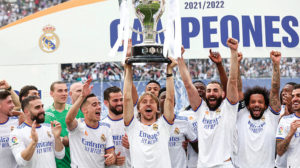 League two play-off finals had not been completed at time of going to press but congratulations to Sunderland and their brilliant supporters for getting promotion back into the Championship.
In Europe Real Madrid coasted home in La Liga, beating a troubled Barcelona by 13 points whilst performing miracles to reach the Champions League final, and AC Milan, beating their arch rivals from the same city, won their first title for eleven years. Erik ten Hag arrived at Manchester United having delivered the Dutch title for Ajax and the farcical French Ligue 1 was won by PSG again. If ever you needed a warning about what a travesty the inequalities of spending power can do to a league competition, look no further.
With the World Cup having moved to November, there will be a genuine break from football this year but it all kicks off again come August, and I for one will be watching.