DISCOVER DINING AT SEELAND BREWERY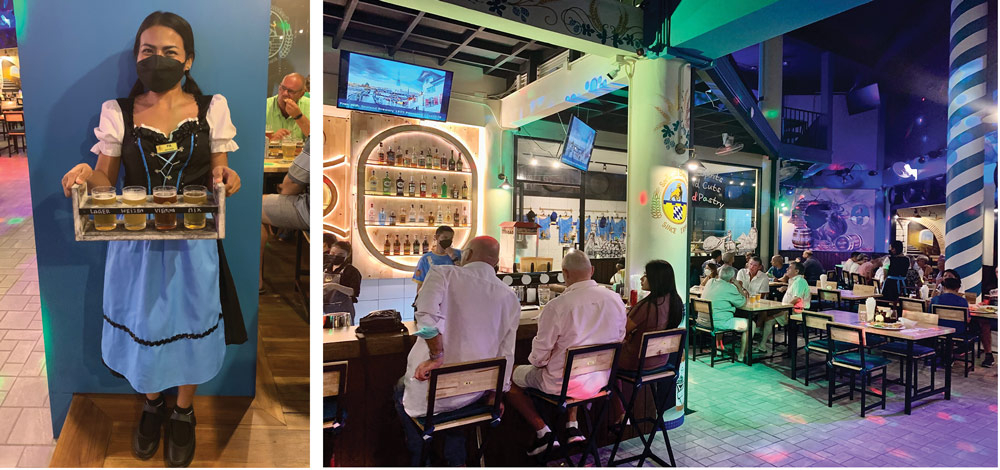 At last, the wait is over!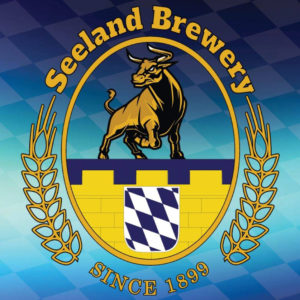 After years of watching and waiting for developments at the boarded up site on Thappraya road (just by the Pratumnak traffic lights and opposite Sun Sabella), a brand new venue has opened here – Seeland Brewery. I say "venue" as it is so much more than just a bierkeller or restaurant. Spanning over 4 floors it has a live music area and outside seating making it perfect for corporate events as well as a great place to hang out for private diners. Inside great care has been taken to supply comfortable seating for large parties, smaller families, couples or even single visitors who may want to sit at the bar. There is also a Deli shop not just selling the ham, meat and sausages you would expect but also amazing hand pastries, a large assortment of wines and beverages – even Seeland brewery T-shirts and branded merchandise.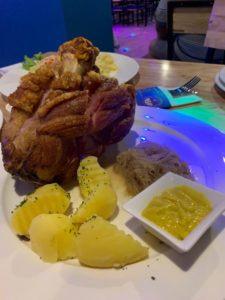 Don't make the mistake (as an Australian visitor informed us he had) of expecting Seeland to just sell beer and eating prior to a visit – you would certainly be missing out. Their menu is extensive and includes homemade Pizzas, Pasta, Thai dishes, Pork platters, Fish, including an impressive wood fire grilled Salmon and mouth-watering desserts.
However, we were there particularly to focus on their speciality: Authentic German and Bavarian Cuisine.
We had the Bratwurst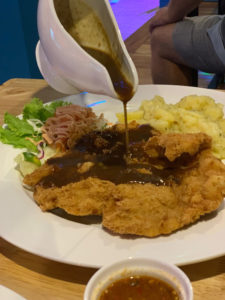 Nurnberger Art (249 baht) perfectly cooked and extremely tasty with fried potatoes and sauerkraut and Pork Schnitzel available in a selection of sizes with a choice of sides and sauces – we went with potato salad and pepper sauce- delicious! Then a real talking point a gigantic Pork Knuckle (399 baht). I have eaten pork knuckle before but have to say the one at Seeland is my new favourite because it is really slow cooked to ensure a crunchy outer with off the bone delicious sliceable meat. Plenty for 3 people to share and a great takeaway treat for your pet if it all becomes too much!
Craft beer tasting (199 baht) was also a must: 1 litre spread between 4 glasses with a choice of Wheat Beer, Lager Beer, Vienna Special and Mix Beer (e.g. with Sprite lemonade added) This is a great idea,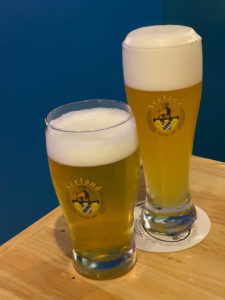 especially for first-time visitors. The wheat beer I would recommend for lovers of Hoegaarden and larger beer for those who usually drink light bottled beer. However, with Seeland beers, there is so much more flavour as you would expect from a master brewer!
charmingly themed
Soi Thappraya Alley 10
333/38-40, 20150
Facebook Seeland Brewery
@Seelandbrewery
Tel 098 618 1470