Wine Dinner at O'Gara's Tara Court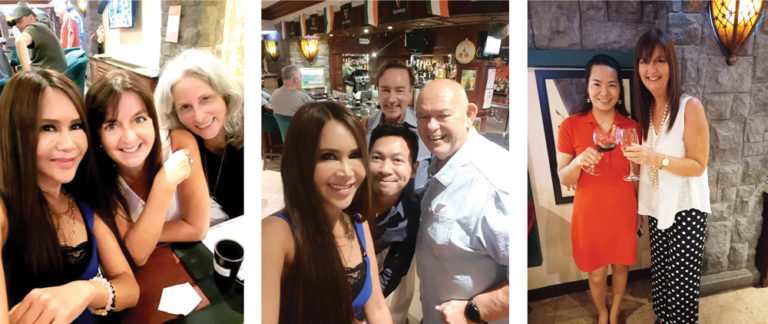 For many years now O'Gara's Bar & Grill at Tara Court in Pratumnak has been one of my favourite places in which to indulge in a really good breakfast especially when it is hot outside and cool inside. So it is good to see this popular Pratumnak pub fully back to life now with live music and events happening on a regular basis. In fact, the recent Wine Dinner held here was so very popular it sold out just a couple of days after being announced.
The popularity of this event may also be due, in no small part, to the tremendous value the ticket price held. For a mere 1090baht diners were treated to 6 wines from VinestoVino as well as an amazing selection of food laid on by O'Gara's.

Firstly there was a magnificent buffet and what I especially noticed was that even the chicken legs were well seasoned and soft. I have encountered buffets where these have been a rather dry afterthought but not at all at this event.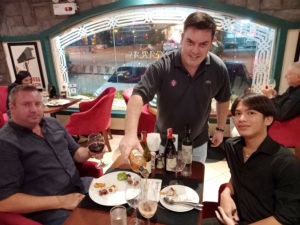 Everything on offer was delicious even the accompanying sauces were homemade and very tasty.
Some of the diners made the mistake of believing that this was the only food for the evening and rather filled up their plates only to be amazed when more delicious ribs, lasagne and delicious high-quality meat dishes were served to them.
All this with wine as well! From Vines to Vino's the selection was varied and of excellent quality. My particular favourites were the crisp and fruity South African Rose from Rhanleigh Western Cape and the Australian Shiraz. This well-rounded smooth red from Buronga Hill Estate paired perfectly with the meat course. Another tremendous event from the Pattaya Wine Club!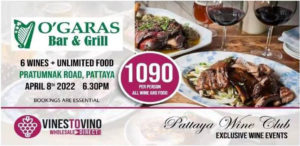 O'Garas Bar & Grill
Pratumnak Hill by Soi 5
038 252 773