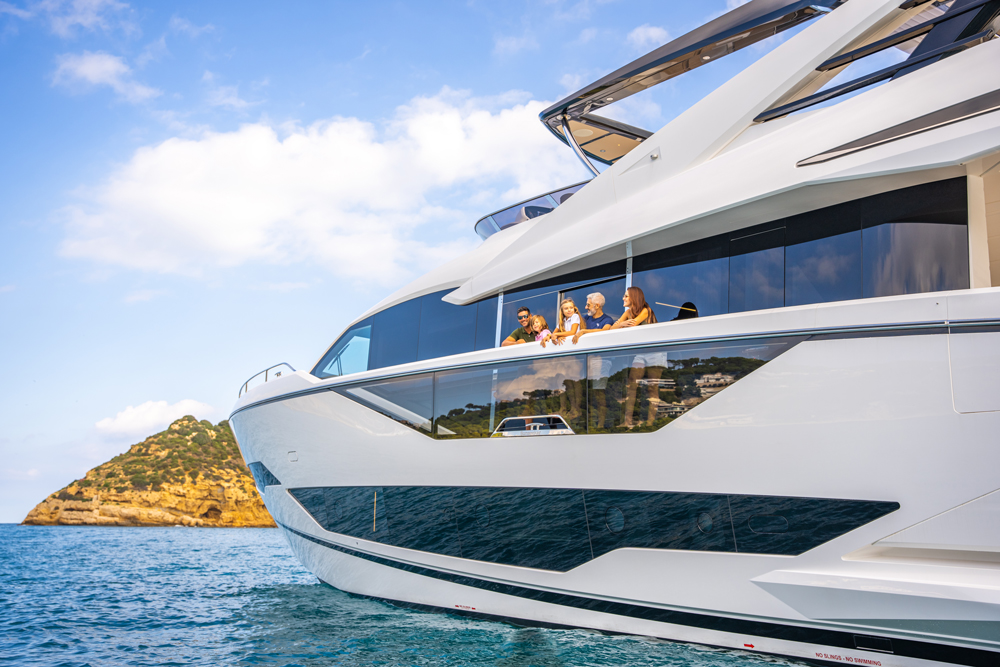 This extra deck space isbest illustrated in the vast beach club, where the 90 Ocean features a double X-TENDTM sunbed, a Sunseeker innovation that CEO Andrea Frabetti has called "a game Changer". Built into the transom door, the X-TENDTM can fold out and down to create a large sofa cum sunbed in the beach club, while the raised position creates a raised lounging area that faces into the aft cockpit.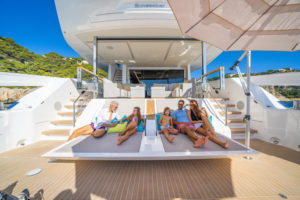 Douglas Culverwell, Sunseeker's Director of Distributor Development, says the X-TENDTM has proved a "huge hit" with owners and prospects."The X-TENDTM is a great innovation and we're delighted by the response from the clients. In the up position, it creates space that was simply not there before and adds to the social aspect of the cockpit," says Culverwell, who has overseen Sunseeker in Asia since 2016. "In the lower position, it's simply an amazing place to relax, enjoy the beach club and watch the sun go down."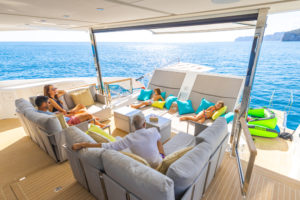 The beach club measures about 20ft wide by over 13ft deep and includes a large hydraulic platform big enough to carry a Williams SportJet 460 tender. The remaining part of the beach club can house a jetski and includes two self-draining Seabob deck lockers, while there's further storage inside the transom for other water toys.In the fixed part of the platform to port, there's a retractable Besenzoni stairway that can be used for water access or as a passarelle, while there's a fold-out barbecue with countertop on the starboard side, well away from the indoor areas.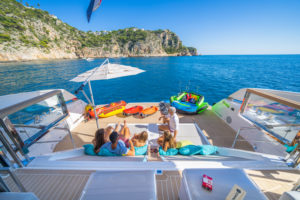 In Asia, Japan dealer Unimat Precious has secured record forward orders. Culverwell says he expects the 90 Ocean to strike a chord in this region, due to its roomy interior and huge outdoor spaces that can be covered when necessary. "There are many interested parties in Asia for the 90 Ocean. We feel the boat is very well suited to the market with a great balance of inside and outside social space.  All the outside space can be under shade and the access to the water from the beach club is terrific," he says."Furthermore, the 90 Ocean Enclosed provides an alternative for clients looking for an even larger main deck facilitated by having a single helm station upstairs in front of a comfortable sky lounge. Sunseeker and our dealers have high hopes in Asia."