By Derek Franklin
Imagine sitting in a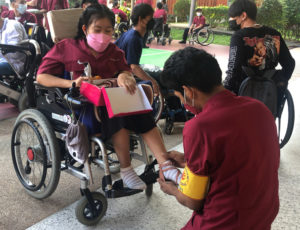 wheelchair all day, every day. Due to the disability of one student at the Technological College for People with Disabilities, she has never stood up, never taken a single step and when asked what would she like more than anything else for Christmas, she did not hesitate to reply; a pair of sandals.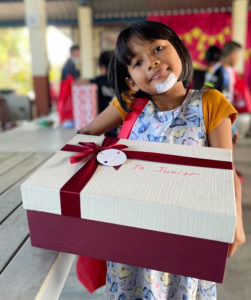 Children at the Father Ray Children's Village each year visit local hotels and stores to sing carols, in English, and they wanted to celebrate Christmas, just like we all do. But times have been difficult for the local charities and during the pandemic many have had difficulty finding enough money to pay the bills.
This is where the people of Pattaya come in. Thai and foreign, young and old, the people of Pattaya made sure than everyone celebrated. School children at international schools made sure that every single child at the Village and all the students with disabilities received a beautifully wrapped gift.
Not only were hundreds of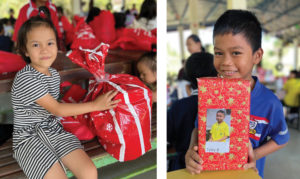 gifts donated, but someone made sure the children at the Village had their once a year traditional Christmas breakfast of doughnuts and ice cream. The children celebrated with a 'mookata' Christmas lunch and celebrated the arrival of the New Year with a seafood barbecue.
There is a lot of love in Pattaya, and the children who don't have a home, who are not living with their families, they are grateful to you for giving them a Christmas to remember. Thank you for giving them presents, doughnuts and a brand new pair of sandals.