Western fashion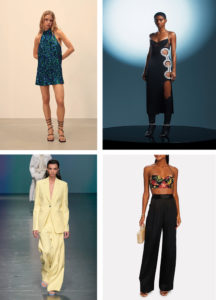 trends for Autumn/Winter seasons don't seem to translate too well here in Thailand. We have few opportunities to cover ourselves up with hats, scarves and coats. Even donning boots seems more appropriate to the rainy season! However, as far as general trends for Spring/Summer 2022 are concerned here are a few that may well find their way to Pattaya.
SPARKLE 
Following on from New Year's Eve you can still continue to sparkle as 2022 brings an abundance of sequin dresses
CUTOUTS 
This trend was all over the catwalks and may well become a favourite here in Thailand.
YELLOW 
Yellow is a strong fashion colour for 2022. Everything from the palest to the brightest with the most popular shade being the Pantone "Popcorn" a mellow, buttery yellow.
BRA TOPS
Celebrities have already been seen wearing these with oversized blazers and jeans and although the bold may go with bras as outerwear a safer version may well be the Bralette as seen below.
Also worthy of note: Fringing is still very popular, also striped and mesh or net.