Barry Upton – My Favorite Party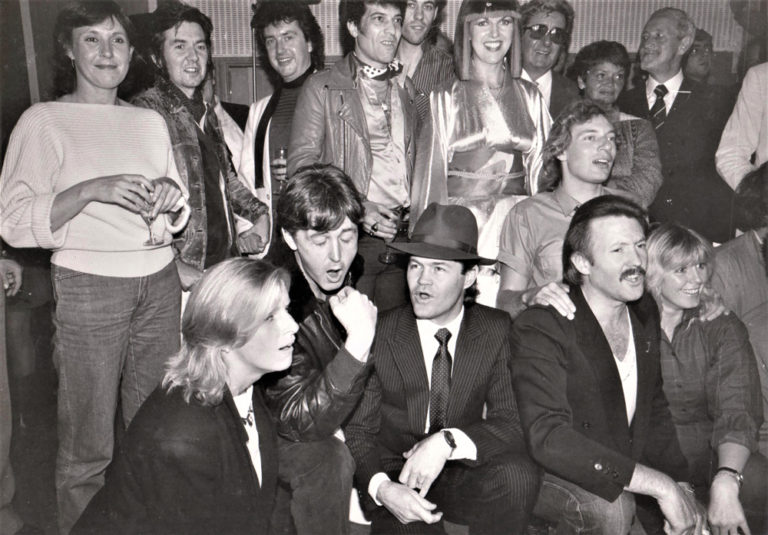 For many, the party season has come and gone for now so I got to thinking about the best party I ever experienced. It was in 1982 at the legendary Abbey Road recording studios in London. Here follows an excerpt from my book 'Confessions Of A Pop Tart', not long after I had become a front line member of chart topping band 'Brotherhood Of Man'……
After meeting the Pope, David Soul and now, Princess Margaret, I started wondering what bizarre event would be next. I didn't have to wait long as we were invited to a book launch for '500 Number 1 Hits' put together by Paul Gambacini and Tim Rice at EMI's Abbey Road studios. The book listed all the U.K. number 1 records since charts began and, because Brotherhood Of Man had three chart topping hits to their name, we were all invited. As we walked into Studio 2 at Abbey Road, where none other than 'The Beatles' recorded just about all their songs including 'All You Need Is Love' which I'd watched being recorded on TV in 1967 with awe, I was filled with a sense of disbelief that I was actually standing on, to me, 'holy ground'. Straight away, I was rubbing shoulders with the likes of 'Sting', 'Cliff Richard', 'Bob Geldof', etc. and found myself striking up conversations with Kevin Godley from '10cc' (about his newly directed controversial video for 'Duran Duran' – Girls On Film) and a hero of mine, Roy Wood, who happily chatted to me while we stuffed gateaux down our necks. I was like a kid in a sweet shop with almost my whole musical heritage all around me in one room and I did my very best to meet every one of them.
Suddenly, we were all called to order by Tim Rice who did his little speech about the book and officially launched it, then asking us all to get together to pose for the press in a kind of team photo. I found Martin & Sandra to make sure we were all together for the pics and we planted ourselves, kneeling at the front of the assembled group. There was a lot of merry banter and joking going on and I joined in with those around me which included Mickey Dolenz of the 'Monkees', Ray Dorset of 'Mungo Jerry', and a mystery woman kneeling just to my right. I caught her attention, joking about the hoards of cameras in front of us, when it occurred to me that she was Linda McCartney. Then a thunderbolt struck as I realized that next to her was none other than Paul McCartney himself. 'Oh my god', I thought, as there were about fourty plus photographers taking pictures of Linda, Paul, – and me! When the posing for photos was all over we all stood up and I waited for my chance to shake Paul's hand and introduce myself. It was a poignant moment as we were standing under a screen where a film was being projected of the Beatles actually recording in the studio we were now standing in the middle of. It dawned on me that this was probably the first time Paul had set foot in it since John Lennon had died so it would be a bitter sweet party for him. He did look a bit somber so I thought I'd make a little joke to lighten the mood asking him to 'lend me a fiver'. Well, he's heard a million times how much he's affected all our lives with his music and I really didn't want to say something as banal as 'Paul, you're fab!'. He responded well, laughing, so I felt like I'd contributed to the afternoon in a positive way, cheering 'Beatle' Paul up.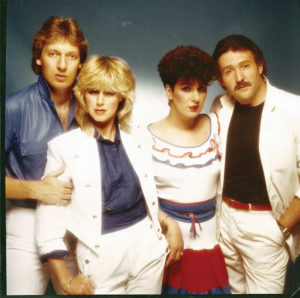 It was the most unbelievable afternoon with so many pop legends in one place and as I left, picking up my copy of the book which Tim Rice signed, thanking me for coming, I was so exhilarated to be a small part of it all. The following Monday, a picture of me with Paul, Linda, and a whole host of other stars appeared on the front of the music trade magazine 'Music Week'. How cool was that?!