The Aspen Tree ITF S700 Thailand Seniors Tennis Championship Was a Smashing Success
Ms. Hye June Park, the
President of The Aspen Tree Corporation Limited by Magnolia Quality Development Corporation Limited celebrates with some of the winners
Recently held at the Fitz Club and sponsored by The Aspen Tree by Magnolia Quality Development Corporation, this prestigious event brought together around 100 top Tennis players from all over the world. They showcased their athletic tenacity by competing in non-stop sensational tennis action for 7 days. This annual event is run by Mr. Vitanart Vathanakul, (CEO of Royal Cliff Hotels Group) along with Mr. Daniel Rajsky and Mr. Jiri Cermak, (Tournament Directors) and has cemented Fitz Club and Pattaya as a major international sporting arena, especially for Tennis.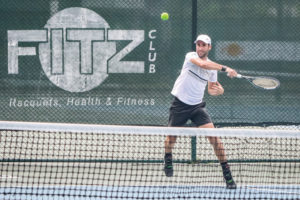 Highlights of the tournament included the quarter-finals of Mens' 35+ battle between Vitanart Vathanakul and Fabian Donsbach. The match lasted 4 hours with the eventual winner Vitanart succeeding after Fabian saved multiple match points. The spectators were thoroughly entertained and on the edge of their seats with excitement. There were also a number of nostalgic moments from players including Roland Kupka who came here in the 90s to compete in the ITF juniors and reached the semi-finals. It was a triumphant return for Roland as he prevailed over top-seeded Daniel Rajsky in an epic final.Martial Ryckembusch battled it out in an exciting match to win the Men's Singles 50+ and Pierre Sequier of France was the winner of the competitive Men's Singles 35+
Pierre Sequier of France, the winner of the competitive Men's Singles 35+
This is the fourth time that this tournament has been held at Fitz Club – Racquets, Health and Fitness, one of the most iconic sports venues in Pattaya and Thailand. This cutting-edge luxury sports center has been frequented by top ATP players and sports stars from around the world. It is located in a highly accessible location and has the facilities to hold a world-class event including seating areas for the spectators. A variety of food and beverage options were served, post-match massages were available and state-of-the-art sports facilities were provided for both players and spectators to work out, unwind or

socialize. The players gave nothing but amazing feedback and many said it is one of the best championships they have been to. Participants, fans, and spectators of all ages enjoyed competitive world-class tennis in this remarkable event.
This event has successfully brought live Tennis back to both the athletes and the spectators after the covid lockdowns. The Fitz Club team set up strong precautionary measures against Covid-19 which successfully resulted in no one getting infected at the event.