1) DIY Gift Tags
If you don't want to splash out on tags for your Christmas presents then why not make your own. Far more green and you can get the kids involved too. Recycle last year's Christmas cards or make your own festive gift tags from card, ribbon, and your own decorations.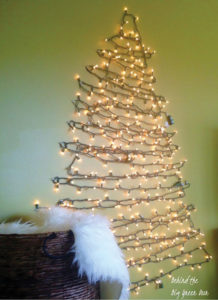 2) An alternative Christmas Tree
Maybe you don't have the space for a large tree or you want an additional tree in your entrance or in a kids' room? This idea will take up no space at all as a DIY Wall Christmas tree can be easy to do and look very eye-catching. You can go simple by attaching Christmas lights to the wall in the shape of a tree. These can be lights of one or different colors in a zigzag shape or you can add tinsel and attach ornaments to the lights.
You can even make your own DIY Christmas cards. Again it is greener saves money and can be more personal especially when children do the design or you use family photos.
4) Strawberry Santas 
Cut the top third off each berry and reserve.
Stand berry bases on a serving platter.
Mix cream cheese with icing sugar until smooth and creamy.
Spoon 1 teaspoon cream onto flat berry tops. Place reserved berry tops on top. Use a piping nozzle to pipe the mixture onto the tip of each strawberry 'hat' (pompom) and onto 'chest' (button).
Use tweezers to place 2 chocolate pieces onto each cream 'face' (eyes). Refrigerate until ready to serve.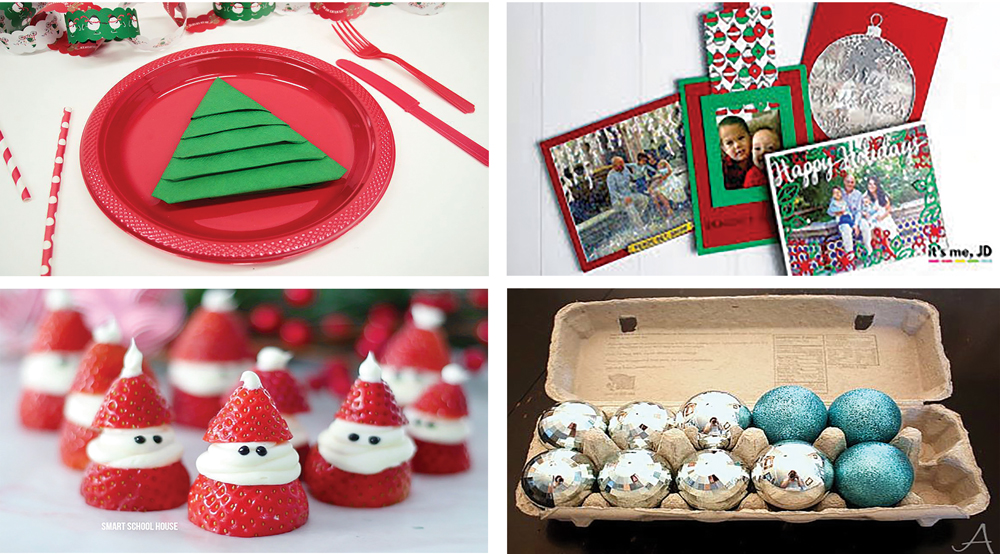 5) Christmas Shape Napkins
Fold green fabric or paper napkins into Christmas tree shapes. Youtube has plenty of these ideas with step-by-step instructions.
6) Egg Carton Ornament Storage
Start saving your egg cartons ready to pack up your Christmas Bauble decorations. A perfect storage solution to keep them safe and ready for the following year.
7) Get the kids to help make decorations with paper snowflakes
Very simple and great fun to do with just a sheet of paper and some scissors you can attach your masterpieces to windows or mirrors to bring some Christmas cheer to the whole home.
8) Buy in your Christmas Cake
Unless you really enjoy the ritual of making a rich fruit cake at Christmas you can buy one already and then just decorate. One of our favourites comes from Aulie's kitchen – contact her on Facebook. She also makes great mince pies!
9) Upgrade Last Year's
Decorations
Are some of your Christmas decorations and ornaments looking a little battle-scarred and worn? Try spray-painting your older things with gold or silver paint. Or get along to Edenko at Baan and Beyond (next to Big C extra on Sukhumvit Road) they have an extensive range of trees and decorations for you to give your Christmas theme a complete overhaul.
10) Don't get stressed
Keep things as simple as possible. If you find that you are unable to manage the twenty-five different recipes you want to make then just pick two or three. You don't have to have everything homemade, buy in the items that you find just be too tricky to make yourself.
Make sure to enjoy your Christmas and have a Very Happy New Year!