The Coffee Detective Visits Benjamit Coffee Roasters
Whilst the Coffee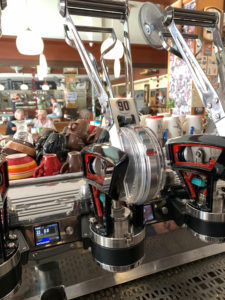 Detective strives to locate and inform readers about new and exciting places to enjoy good coffee, it is always a pleasure to return to old favourites.
Ambience: *****
Benjamit's is an original and probably one of the oldest coffee shops in Pattaya having already been there for more than 16 years. Probably the closest to a traditional Mediterranean style café, Benjamit's is always well frequented with regulars attracted by the down-to-earth, authentic atmosphere and of course, their exceptional coffee.

Location: ****
Located where the old Burkhao market was held there is a very special charm, ambiance, and atmosphere. Whilst the décor may look dated, the secret to Benjamit's is not only their superb and exciting coffee blend but their cutting-edge La Marzocco Leva X espresso machine. Probably one of the most advanced machines in the world, it allows the Barista personal influence on the coffee being prepared. It is a beautiful machine and superbly manipulated by the Baristas creating truly exceptional coffee.
Quality of the coffee:

*****(+)
Benjamit's roast their own coffee and you will see a wide selection of coffee bean sacks from both Thailand and from all the major coffee producing countries. Their house blend consists of 70% Chiang Mai, Ethiopian, Guatemala, Indonesia, and Brazilian beans. Their expresso is complex with a rich chocolaty aroma, the flavour is bold, intriguing, and complex with a long, graceful finish. One of the most elaborate espresso flavours in Pattaya with perfect extraction, acidity, and flavour.