CHARLIE'S GOOD TONIGHT INEE!!
                                                                                                          By Steve Wade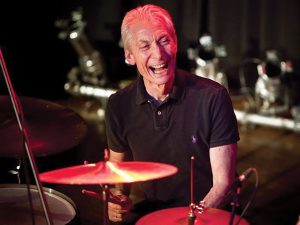 Charlie Watts, the drummer, and heartbeat of the Rolling Stones passed away on the 24th of August. Fifty years ago at age thirteen, I started to buy my first vinyl records. Ride a White Swan by T.Rex I think was the first, but later that year The Rolling Stones put out Brown Sugar and I thought "What the hell is this?" – I've been a massive fan ever since. Only people of my age understand what it's like to have a band's music in your life for fifty years. It becomes a part of your DNA. You don't choose to listen to it, you have to. And so I still do.
Keith Richards says in his book "Life" that Charlie was the musical bed that he lay in and he was right. That swing, that sway and swagger their best tracks had, started with Charlie and spread through Keith and out to the rest of the band. It is something that at their best they did better than anyone else, and that was down to Charlie.
The least obvious of rock stars, his humility and good grace never left him. His bemusement when 70,000 people chanted his name during the band introductions was clear to see. Yet he took it all in good humour, sat back down and just did his job – brilliantly! I must have seen them at least ten times, starting back in '76 through until 2003 and not once did he let the side down. One or two of the others were occasionally under the weather! But not Charlie.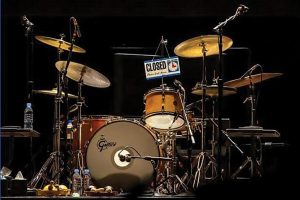 The outpouring of goodwill and good wishes that have been evident since his passing are a testament to the esteem both as a person and musician that he was held in. There have been some wonderful tributes from musicians of every generation, ranging from the remaining Beatles through Liam Gallagher and everyone in between. I think this is a reflection of his personality. If you spend 60 years in the limelight everything comes out eventually, but you can't find anyone with a bad word to say about Charlie. He did what he did best and let that speak for itself. The rest was just so much flotsam and jetsam and he had very little to do with it.
His dilemma was that he loved to play the drums with the Stones. However, that meant leaving home which he hated to do but when he was at home he missed playing the drums. He didn't like being on the road, although it did get more comfortable as the band got older. "Five years playing and twenty years hanging around" was one of his quotes when talking about touring, little knowing then that he wasn't even halfway through the journey!
I love the Rolling Stones and Charlie was inseparable from them.
Cheers Charlie. Keep it steady, keep 'em honest, keep it rolling.