"A Journey in Italy" with the deVine Wine Club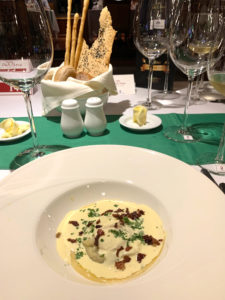 Despite ridiculously heavy rain and a power cut throughout the Jomtien and Pratumnak area, the deVine club still managed to assemble for a gourmet Italian adventure. The Royal Cliff's executive chef and his talented team created a 5-course menu beautifully paired with premium wines from Wine Dee Dee Pattaya Co., Ltd.
Reception started at 6:30 p.m. with signature canapes from Chef Nick accompanied by a 2018 Prosecco served from elegant, golden bottles. Then the club members assembled downstairs past an imposing ice sculpture into one of my favourite places to eat The Royal Grill Room.
To commence we were treated to a very attractive plate comprising prawn and cucumber ravioli with sweetcorn panna cotta, red pesto, marinated radishes, and roasted bell pepper dressing. This got the evening off to a very good start paired with a Venetian Sauvignon Blanc that had just a hint of gooseberry.
The next course Ravioli All'uovo was for me the highlight of the menu truffle-infused,in a light garlic cream sauce it contained an excellent egg yolk surprise and was accompanied by another fresh Bianco this time from the slopes of Mount Etna in Sicily
The lime sorbet palate cleanser was light enough to literally be sipped from the flute, refreshing our taste buds ready for the following two courses of snapper and then lamb stew. The latter accompanied by, in my opinion, the best wine of the evening a wonderful Tuscan Valpolicella
Then living up to their reputation as creators of heavenly desserts the Royal Cliff team served us a mouth-watering honey semifreddo with mixed berries and some of the best chocolate confectionery to be enjoyed in Pattaya. However, I declined the hot beverages in favour of a delicious, sparkling rose moscato, so much more refreshing than the sometimes overly sweet, dessert wines.
If you would like to join the deVine club, make friends, talk wine and enjoy food in wonderful surroundings contact them via email [email protected] and ask to be put on their newsletter mailing list for all future events.