By Gloria Jones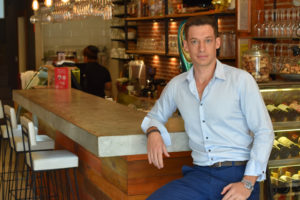 If there is one type of restaurant to be found in abundance in Pattaya (apart from Thai) it is the Italian pizzeria of which there are many. So what makes Marco's so special and why is it the Italian restaurant I keep returning to again and again?
One reason is that it is extremely pleasant to sit in either al fresco or within the air-conditioned interior. Another that it is equally charming by day or night with just the right ambiance. The lighting is soft (how many restaurants use glaring white lights?!) but not so much as to require the light from your phone to read the menu.
The food is wonderful – not just the 20 different varieties of pizza but the pasta made to order with a selection of toppings. They have my favourite Chicken Caesar salad in town and some great fish and meat entrees. I personally can't look at the dessert menu but I urge you to do so.
Last but certainly not least it is because of Marco himself. He always welcomes each and every diner not in an annoying, bothering way but with a greeting and to ask if everything is ok? He takes as much care of a single diner as he does a whole party and professional to the last keeps a constant check on the kitchen whilst making sure the service is up to speed. This is all done with the instinctive grace that seems to be in each French or Italian host and is really the secret ingredient that makes this restaurant so special.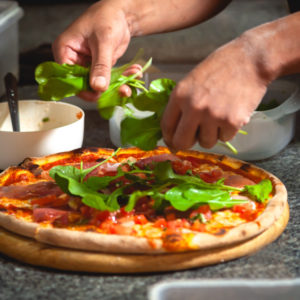 Marco was born in France, right by the border with Italy. He tells me in that area of France there is a strong Italian influence, hence his name and his parentage – with a grandfather from Napoli. It was an area rich in food culture from both countries and he fondly remembers being brought up on his mother's homemade pasta. He also studied the art of great pizza making at a school in Monaco. The Paolo Pizza (with cream and whole grain mustard) was a recipe he took with him from the school. The Marco pizza has all his favourite ingredients (Parma ham, shaved parmesan, wild rocket – Diavola with spicy salami is his bestseller.
So why the change of location to Pattaya? I was curious to find out. Marco tells me it was a simple phone call from a friend 8 years ago who was opening a restaurant and asked for Marco's help that changed his life forever. Before then he had never been to Pattaya, Thailand, or even Asia. It soon became apparent to Marco that there were opportunities here. Although he assessed a possible move to Bangkok, Pattaya's climate, lifestyle, and the fact that having his own business here seemed far more affordable convinced him to stay. So he opened a restaurant at the side of the Rompho market – which is where I first met him and started regularly dining.
After 3 years there he had an opportunity to get a place on what has always been known as the food soi of Pattaya; Thappraya Road where he successfully made the transition to his current charming restaurant, bistro, pizzeria. It was all going really well until Covid -19 struck and Marco was forced as every other restauranteur, to either close or adapt. So adapt he did. Delivery via Grab had only been a small part of his business accounting for just 5% but as the Take-Away rules came into force this side of the business was ramped up. Marco and his loyal staff plus the services of Grab and Hungry Now joined forces to help with deliveries. As a consequence, his delivery business has grown and now accounts for 50% of his turnover.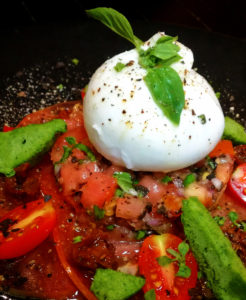 Another positive is that over the last year there has been an increase in Thai customers especially from Bangkok, who are becoming noticeably more discerning about Italian food and wines. Also, the specials which are added on a weekly board have sometimes proved so successful that Marco has added them to his regular menu – a case in point being his Burrata cheese starter.
So whether you're speaking to him on the phone to order a pizza or saying hello as you dine in the restaurant be sure to congratulate Marco he has done well to survive during these challenging times.
Marco's Restaurant is at 306/94 Thappraya Road
Telephone 092 475 1493
Facebook
Website http://www.marcospattaya.com/