A New Experience Coffee with Local Spice
       By Elle Inlom
In my last article I shared with you some menus and simple ways of enjoying the aroma coffee cup at home. In this article, I would like to bring you out of your homes to explore something new which I discovered during my trip to Thailand's mountains.
I recently had a chance to visit a small village called " Baan Kong Hae" located in Maerim, Chiangmai. Here I found many interesting things during the trip, but for now want to focus on the small seed that people there told me is a local spice grown in the forest. It is usually used for cooking local menus and can only be picked during 3 months of the year in September through to November.

Its name is "Ma-Kwaen"
This spice has a really aromatic smell and the taste is a little spicy. I wondered how it would taste if I sprinkle the Ma-Kwaen powder on top of a Cappuccino. So I bought some and the day after I pounded the dried seed to make it into a micro powder.
Then it was time to make a cappuccino and have my first try of "Cappuccino sprinkled on top with Ma-Kwaen powder".
The first sip had a lovely strong aroma from the Ma-Kwaen and after a few sips left a little spicy taste on my tongue. I think it is an awesome taste to try if like me you like to find something new.
After this I tried a few other coffees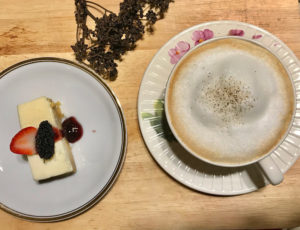 such as Iced Americano, Hot Latte and Cold brew as
If you have any questions about "Ma-Kwaen" Please l free to contact me.
Stay Safe and Strong. Have a great time learning new things and see you at my next sharing!