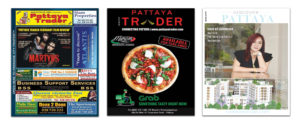 Month no 5 and soon we will have half a year of the new-look magazine. It's amazing how quickly time flies even during a time of COVID. Thank you again for your kind comments about Discover Pattaya. Many people have told me how much they now prefer the 100% colour and simplified format – especially our Thai customers who weren't that impressed by the old "flip the book" idea.
Pattaya Trader is still trading on Facebook and now seems more popular than ever as a means to buy and sell. We have new member requests daily – but remember this is a community service no spammers, please!
Discover Pattaya magazine is increasingly being read online and it downloads very easily onto a mobile phone so that it really can be enjoyed while you're out on the go. Try it via the website link pattayatrader.com where you can also catch up on any of the previous editions or earlier articles that you may have missed.
Another change at the start of the year via our collaboration with 96fm was the move from Sophon channel to TMN Cable TV (otherwise known as Tipmanee). I know that more and more of you are watching via this channel simply because of the comments I get when out and about. There's no getting away from the Barry and Gloria review of the magazine, as excerpts are also aired on 96fm radio.
We are also very grateful to the LED screen companies who have been screening our video daily on their big screens at Mike's Mall shopping centre, Thepprasit and Thappraya road junction and at Magna Carta by the Third Road junction.
Like everyone trying hard to make it work during this strange and somewhat terrible year, we are constantly aiming to think outside the box. For those who think we are just a printed magazine please see that when you advertise with us there is so much more in terms of TV, Radio, LED screen, and Digital Marketing coverage.
To our loyal long term followers and readership who like me will always love the feel of an actual glossy magazine to have on the coffee table or to take down to the pool. Please message us on Facebook or send an email to pattayatrader@pattayatrader.com if there is something you have discovered in Pattaya that you would like us to write about. Don't forget that can now be written about in either English or in Thai.
The Ex-pat, Business, and Local Residents have really been helping the struggling businesses of Pattaya. We also thank our visitors from Bangkok and elsewhere across the Nation for choosing to visit Pattaya and hope that the International tourists will also make an appearance soon.
Good luck everybody!