Mitr Chaibancha - The Greatest Thai Movie Star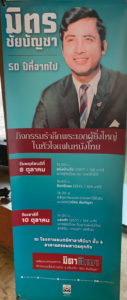 Last month we wrote an article for those of you curious about the shrine on Jomtien 2nd Road. We explained that it is dedicated to a Thai Movie Star Mitr Chaibancha who tragically fell to his death at this exact spot. He was undertaking a difficult film stunt hanging from a rope ladder suspended by helicopter when he lost his hold and fell. For the full story, you can still read this article online (in English and Thai) at pattayatrader.com. It was 50 years ago last month that this terrible accident happened and the event was commemorated by the Thai Film Archive on a special Mitr Chaibancha day which we were delighted to attend.
The Thai Film Archive is in itself an extremely fascinating place, having moved to a brand new building in Bangkok just over a year ago. An important centre for all lovers of classic Thai movies it provides a home to an energetic team of friends and self-confessed movie buffs who all enjoy the old films made by the Thai industry. They are passionate about restoring and bringing faded old films back to their former glory.
When we visited the centre there were many members of the Mitr Chaibancha fan club in attendance. 50 years on he is still an incredibly popular and famous figure not only because of his tall physique and good looks but also because of his gentle and unassuming ways which made him a popular hero of the people. Many of his films were shot on 16 mm and their colour had faded with the original accompanying soundtrack lost. Therefore bits of the film have been found sometimes in different locations and painstakingly spliced together and restored.
Examples of this were shown in the movie theatre, where not only had the original film been worked on with the faded colours touched up, but the sound had been overdubbed. This is a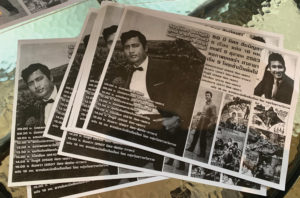 fascinating process as, without the aid of a script and only an idea of the storyline, the dubbing actor literally has to lip-sync by watching the movement of the actor's lips on the screen. We were treated to a live demonstration of this and then it was time for the audience to ask questions. An actress who had appeared in the clip shown to us when she was just a young child was interviewed and even more exciting for the fans Mitr Chaibancha's one and only son made a rare appearance and also took some questions from the cinema audience.
One of these was:
"How did it feel to have a famous movie star as a Dad?".
To which he replied that he had a very fond memory of his father coming to collect him from school one day and causing a great deal of excitement by his presence. Regrettably, this only happened once because the school's headmaster pleaded with him not to do it again explaining that "The school doesn't have enough parking spaces to cope!"
As we left the cinema we laid a rose on the commemorative paving stone and were grateful for the enthusiastic and extremely kind welcome shown to us by everyone happy with the interest we had shown in truly the greatest ever Thai Movie Star.