Maharani restaurant The Queen in residence at The Royal Cliff Hotel.

                                                                             By Gloria Jones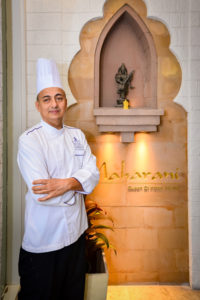 I am rather embarrassed to admit that after nearly a decade of living in Pattaya and several visits to The Royal Cliff Hotel I have never visited their Indian restaurant The Maharani. A friend recommended it to me by saying that it is not just the best Indian restaurant in Pattaya but in his opinion the best Indian restaurant in Thailand – and this comes from someone who has eaten his fair share of curries!
I was therefore very excited to enjoy a meal at this absolutely beautiful restaurant with its breathtaking view of the Gulf of Thailand. It's a far cry from some of the Indian restaurants I frequented in the UK back in my youth. No flock wallpaper or gaudy pictures here, no the decor in this restaurant is delicately shaded in pastel hues with Indian inspired arches and of course that view!
Interestingly, at night the soft golden lighting gives an altogether different vibe but you can rest assured that the ambiance will be charming at whatever time you choose to dine.
The chef and his talented Indian kitchen team create dishes that hail from all over India using authentic herbs and spices to ensure that every mouthful is a real treat. For me, the consistency of curry is a real concern. I cannot abide curries that are thin and watery or where the meat is in short supply – no chicken and all gravy – if you know what I mean. You won't need to be concerned about either here at Maharani. The curries are sufficiently robust with wonderfully rounded flavours. Lamb rogan josh was my particular favourite with succulent, aromatic lamb completely marinated in spices then steeped in a creamy, sauce.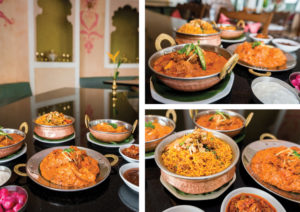 All my favourite accompaniments were also on hand; the small pink pickled onions were excellently crunchy and the mango chutney was thankfully as robust as the curries then there was, of course, the wonderfully cool, green chutney as a welcome accompaniment to the rice and naan bread.
In the absolute spirit of the meal, we drank sweet lassis. Then even though I had rather overindulged in one of my favourite dishes, the rather too generous portion of Dal Makhani I still found room to share some Gulab Jamun. For those of you who have not yet tried this beloved, traditional Indian dessert I urge you to do so especially at the Maharani where they are expert in this confectionery. The dessert consists of soft, berry sized milk-solids balls that are quickly fried and then served in a delicious accompanying syrup of rose water and cardamom.
The Maharani I urge you to try this absolute Queen of Restaurants!