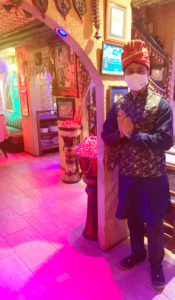 What you notice as you first ascend the stairs of the Alibaba restaurant on Pattaya Klang just by beach road, is how wonderfully they have themed their restaurant. It really is tremendous fun with bejeweled pots and vases leading you into the multi-coloured restaurant resplendent with waiters in costume. They are also wonderfully attentive, warning you to be careful of a hot plate – or a hot dish if too spicy! Guiding you with your choices and helping with recommendations. 
Before your selection, you are served with complimentary poppadoms, pickled red onions, yogurt, and chutney dips. Then accompanying your starters a colourful salad. We went with one of my absolute favorites Prawn Puri. I love this starter because the tasty sauce that coats the prawns sinks into the bread underneath so it can then continue to be a tasty accompaniment for the following courses.
Next was  Murgh Malai Kebab "an Alibaba must try". It comes from a region in the north of India that was invaded by the Mughals. They were a regal race of Muslims who brought exotic spices with them which then influenced the cuisine in this area.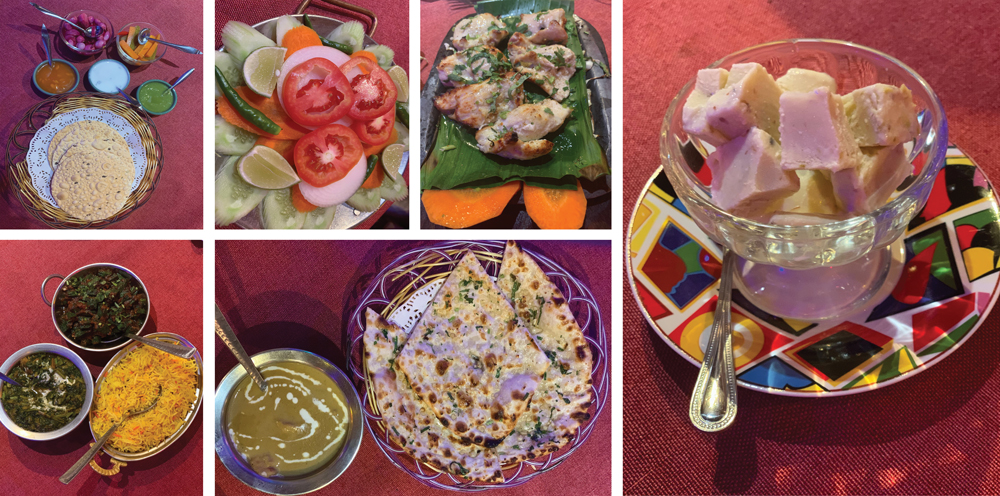 A truly aromatic dish it consists of sizzling pieces of succulent chicken in delicate herbs and exotic spices.
With the curries, I usually try not to fill up with rice but the pulao rice at Alibaba is fabulous. This accompanied Lamb Sagwala a spinach-based curry. The lamb in this dish was for me a little too fatty, but the Chicken Vindaloo did not disappoint. Certainly not for the faint-hearted if you can take spicy curries then treat yourself to this one – a wonderful way of unblocking the sinuses and throat! In contrast, the Prawn Malia Curry was a light, coconut flavoured, creamy curry. We accompanied this with garlic nan bread and Bhindi Masala: okra in an extremely tasty sauce. 
If you don't usually have dessert think again for the kulfi is delicious and great for cleansing the palate after your meal. Also, don't be frightened of requesting a doggy bag – portions are larger than you think and many a diner has had to admit defeat with eyes bigger than their stomachs. The elegant manager at Alibabas has seen it all before he won't be surprised when you ask for a take-away!
https://www.alibabarestaurantpattaya.com/