OCTOBER 13TH THE ANNIVERSARY OF THE PASSING OF KING BHUMIBOL ADULYADEJ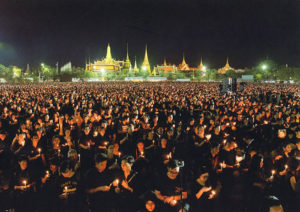 SOMETIMES THERE ARE EVENTS THAT BRING ABOUT A COLLECTIVE REMEMBRANCE OF WHERE WE ALL WERE WHEN THEY OCCURRED. OCTOBER 13TH IS A NATIONAL HOLIDAY IN THAILAND AND ANY OF US WHO WERE HERE FOUR YEARS AGO WILL REMEMBER THAT DATE,
HERE IS A PERSONAL RECOLLECTION ………. BY BART WALTERS
The Night the Light Went Out in Bangkok
In 2016 I was employed by a private company called New Education World to teach English language courses in a University out by Suvarnabhumi International Airport. I had moved into an apartment in On Nut and was living the life of an English teacher in Bangkok. A couple of days a week I'd go in at 9 AM and teach my morning writing class, have lunch in the big student-faculty canteen, and teach my afternoon class at around 1 PM. Other days I'd come in later for various other classes and my income averaged a nice livable wage. Life was pretty good for old Professor Barton.
During the early part of October 2016 Isigned on to teach some TOEIC (Test of English for International Communication) classes that ran from 4 PM to 7:30 PM. The program had been wildly successful and we had a dozen teachers with an average of fifty or so students per classroom. I was feeling pretty good about my career and financial turnaround. I had lived in Bangkok four times before but this was the first time I didn't feel like a tourist. I was a real Bangkokian doing Bangkokian stuff.
In mid-October my birthday arrived and I had a great agenda all mapped out. I'd head to work about 3 PM, taking a change of clothes with me so I could leave my teacher stuff in my locker. I'd teach my TOEIC course, change clothes and jump on the Skytrain's airport link to downtown Bangkok via Lat Krabang station. From there, Bangkok was my oyster. I could jump off anywhere in my old stomping grounds to eat, drink and get down! Happy Birthday to me! It was the first time I had remembered being excited about a birthday in a long while.

I had a huge class that night of about eighty-five students. I hate to use the microphone to teach, so I tend to walk around the classroom using my theatrical voice to make sure everyone can hear me. It keeps everyone, including me, interested but it can be a little exhausting. After the first break I started to get a second wind because I knew "birthday time" was only ninety minutes away. I drove hard through the last couple of lesson modules and finished right at 7:25. The whole class let out a sigh and students streamed out of both doors of the room. With my books collected I headed down the big indoor-outdoor corridor towards the parking lot.
As soon as I was outside I could sense something was wrong. There was none of the normal din created by chattering students. No joviality … no laughter … just a hollow gloomy emptiness. I could see small groups of students huddled together glued to their mobile phones. I could see countless students sobbing uncontrollably and hugging each other. I didn't have to ask anyone what was going on. I already knew. There was only one event that could affect all these students so drastically and immediately: The King had died. I always knew this day would come. I just didn't expect it to happen on my birthday.
I never took the notion of royalty from any country seriously. I'm an American … . But, upon living in Thailand I quickly began to understand what the royal family means to Thais. It's not silly, it's part of their social fabric and their culture. To make an obtuse comparison, it's like voodoo in New Orleans. You don't have to believe in it … they believe in it.

The royal family are beings above the rest of us humans with almost godlike status. Now, I'm not sure all of them deserve such adulation, but Thailand's last king, Rama IX certainly did. He was a truly exceptional human being. Over the years I'd come to respect and understand the power this man wielded and the influence he had on every individual in a nation of nearly 70 million people. There is no reason to make a list of his accomplishments. One look at the crippling anguish on the faces of my students is all it took to understand how valuable King Bhumiphol Adulyadej had been to his people. Imagine a day where everyone in the country lost their father at the same time. The grief and sense of loss was overwhelming.
I sat down on a bench next to a big koi pond that flanked our building. For the next twenty minutes or so I just watched. The only sound that could be heard was the soft murmuring of people crying and consoling each other. I am not Thai. I did not have the right to be part of it and I've been in Thailand long enough to know that. Lights in the rooms of all the buildings around me started to go out, and no new lights were turned on. Within half an hour I was in total darkness. Even the street lights went out.
All the air was sucked out of my birthday plans. I grabbed a taxi in front of the school and took the long ride all the way back to On Nut alone. Bangkok looked deserted. 8:30 on a weeknight on a major thoroughfare through some of the most populated parts of a city with twelve million people I don't remember seeing anyone. The whole city had a kind of sick jaundiced glow. Nothing was bright. Nothing was vibrant. An eerie cloak of silence draped over the city like a death shroud.
When I got to On Nut I walked down a small cut-thru street that is home to a bustling little street food market. Normally there are at least forty vendors selling everything from papaya salad to cotton candy. All the carts and stalls were closed up but one. The old Muslim lady that makes fried chicken was the only stall open. I grabbed a bag of chicken and sticky rice, shuffling home in the darkness.
I walked through my apartment without turning on the lights. Opening my last beer, I sat on the balcony eating fried chicken looking out over an entire city that was weeping.