by Rodney James Charman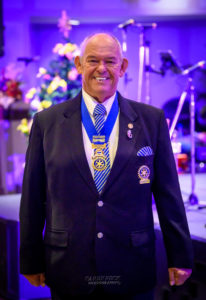 Rodney is a well loved figure around Pattaya. He has been a Pattaya Personality in The Pattaya Trader and a long time contributor to the magazine with his photographs around town and reports on charity events. As many of you know earlier this year he underwent open heart surgery and has asked to share his story with us……………………Ed.
When last in the UK I went to see a doctor for my well man check-up. All my tests were fine but he told me that I had a heart murmur. He did not seem that concerned so I told him I would check it out when back in Thailand. Upon returning I went to see Dr Sutin the cardiologist at Phyathai Sriracha hospital. He gave me an echocardiogram. It showed my heart was fine at rest but after exercise on a treadmill gave cause for concern. He felt that it needed to be sorted out sooner rather than later to avoid a heart attack.
I then agreed to have a coronary angiogram by Dr Montri Charoenpanichsunti. He told me to lose weight, carry on with my swimming increase my daily statin intake from 20mg to 40mg plus a Nebilet 5mg and return next year for a check-up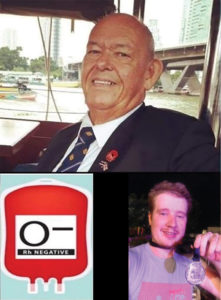 My partner Teay (Sujitra Wangchan) managed to get me registered at the government hospital where the Royal Family goes The King Chulalongkorn Memorial Hospital in Bangkok. Here I had another echocardiogram after which the doctor said that my heart was pumping well but that I needed the valve replaced and she made me an appointment with her boss, the top heart man Doctor Wacin Buddhari. I was told that there are 2 ways of doing the operation either by inserting a catheter in the leg and running a thin tube to the heart or by open-heart surgery.
Over the next 8 weeks I had another coronary angiogram (CAG), CT Scans and a 24 hour stay in the hospital with further tests. After these I was told that my aorta valve was not leaking but had become thicker due to a build-up of cholesterol. Otherwise I was told that I was pretty healthy and so fit enough to have the open heart surgery. They suggested an operation on 16th November2019 but allowed me to wait until after Christmas, so that I could complete my charity commitments and see my daughter who was visiting me in Thailand for the first time.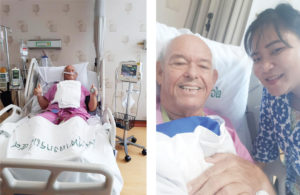 So I was admitted into King Chulalongkorn Memorial Hospital Bangkok on Wednesday 22nd January 2020 for an operation the next day. However, two hours before my operation was due to take place it was cancelled because the hospital only had 2 units of my blood type available and needed 4 to carry out the operation. They tried to order 2 more units from the Red Cross blood bank but unfortunately my blood group was not available. My blood type is O RH Negative, is a common type in Europe but not here in Asia and stocks were low at the Red Cross due to a spate of road accidents in the capital.
The King Chulalongkorn Memorial Hospital Bangkok along with the surgical team and the nurses who were signed to look after me were very sorry and so apologetic for the inconvenience. The British Red Cross put out an urgent appeal for blood donors . As did my good friends at The British Embassy, The British Club Bangkok, Rotary, The Royal British Legion, Masonic Lodges, British Chamber of Commerce and other organisations.
Over the weekend many of my friends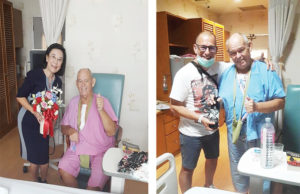 and donors attended the Red Cross Blood Center to give blood. A big thanks to all the many donors and especially to my good friend Ben Reeve who came forward to donate for me – what great networking and a fantastic result. Also it has helped others that needed blood as well and those who came out to donate have now become regular donors
Re-Call back to King Chulalongkorn Hospital Bangkok for a rescheduled operation on Sunday 2nd February. Many thanks to the Cardiac Team who came in on their day off. Teay came with me to the operating theatre before I was wheeled in for the operation. It was very tearful for me saying "See you later" as I just did not know the outcome but I kept thinking positive asn the nice anaesthetist put me to sleep.
After the operation I had to spend another day in ICU with a collapsed lung and kidney function failure. This is apparently common after in heart surgery, but the doctors and nursing staff worked on the problem with medication and breathing exercises.
The following day Teay was able to give everyone the following report via Facebook:
Sawasdee ka everyone,
Khun. Rodney came out from ICU early morning today. Now he is in recovery room everything went well. Take time for practice deep breathing and how to take care of the advice of the doctors.

I then spent a further 10 days in hospital as the doctors wanted to sort out my heart rate before being able to discharge me. My first visitors were from the British Embassy Flight Sergeant Clare McKune (RAF) Assistant Defence Attaché and Tebby Suthathip Jeff Mitchell Vice-Consul British Embassy and Dao Micallef manager AMAR International Asia.
Also Khun Radchada Chomjinda (Toy) brought me messages of love and best wishes from all the children at the Drop-In Center, Child Protection and Development Center, Human Help Network Foundation Thailand, ASEAN Centre. Sheryl and Mike Wilkinson, Frank Satar and Khun Gio from Take Care Kids.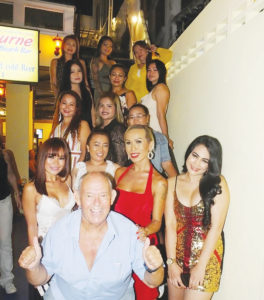 A few trips back to the King Chulalongkorn Memorial Hospital Bangkok my doctors were pleased with my progress.and said that the surgery went well, stitches removed and the wound was found to be clean with no infection although still a little sore. My red cells all back to normal and my surgeon Doctor Seri says he is very happy and that I do not have to go back until January 2021
My Consulted Doctor Wacin My Surgeon Doctor Seri
My Haematologist Doctor Udomsak My Cardiologist Dr Anurut

So a big thanks to all the Doctors, Nurses and my hospital carer who looked after me 24 hours around the clock, Also many thanks to everyone for all their kind messages and support. Of course not forgetting my blood donors and my lovely Teay who has been a brick
6 months on and I'm still alive and kicking