Since leaving Thailand on 14 February 2020, my travels have been a wild ride.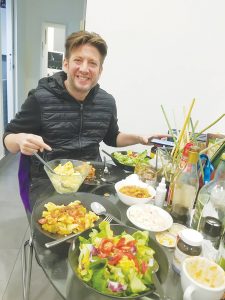 Just after handing out roses on Valentine's Day to the staff of Nin Barber in Soi Buakow for a Youtube video, I boarded the plane bound for Malaysia.
Once there I enjoyed the amazing food and massages in Johor Bahru, and Melaka. Did you know Malaysia has pressure point reflexology massages that are even stronger than the typical Thai massage?
I left Malaysia for Bali, where I ran into my old friend and colleague Martin Carlyle. We explored the live music scene in Kuta Beach, and the local Bintang beers. We noticed that tourism was already way down.
This is where my story takes a bizarre turn. On 8 March, I flew to Sicily, an island just off Southern Italy. Why? My mom and I had planned the trip a year in advance. Weren't we scared of the virus? Yes, but the local government of Sicily said it was "all safe in the south." Our tours were NOT canceled. Momma insisted she was not canceling if the tours were not canceled. So, she flew New York to Italy, and I flew Bali to Italy to meet her. Our temperatures were checked on arrival, and we boarded the train south from Rome to Catania in Sicily. We were happy to see lots of empty seats, even though it was surreal.
After arriving in beautiful downtown Catania, we headed off to dinner. In the middle of dinner, the Italian prime minister announced that the entire country was now a red zone. We were now in lock down due to coronavirus, same as Northern Italy. Tours and all gatherings were immediately deemed illegal. We were shocked, but deep down knew that this had always been a risk. Of course, in hindsight, we should not have been there. 
The next day, the first day of curfew and lockdown, I began shooting live Youtube videos of life in Italy. Restaurants were allowed to open until 6pm. Food markets could stay open until curfew at 8pm. Those rules only lasted a day. That night the prime minister announced that now all restaurants must be closed — even for take-away. Only supermarkets and pharmacies could stay open until 8pm.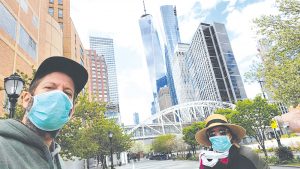 We left Italy five days later with the surreal experience of flying from Rome to New York City,  amongst only 20 passengers, on a plane made for 300.  Arriving in NYC on 15 March 2020, we were told to self quarantine for 14 days. We didn't leave home at all. Friends delivered groceries to us by simply leaving them at our door. I would send them the money online for helping us. 
I have now been in New York City, eating home cooked meals with my lovely momma, for over five weeks. We rarely leave home, have not taken public transportation, and have not seen any friends. Our socialization consists of video chats and waving to our neighbor during the daily 7pm cheers for essential workers outside our windows. We don't know the neighbor's name that we wave to each day, but that is normal here, even though we have seen him for 25 years. 
The New York streets are quiet. It almost feels like a small town. Nearly all businesses are closed. I wonder how many will reopen? Walking the streets of New York feels less friendly now. We don't trust getting near anyone. Almost everyone wears masks and even though we all have nowhere to rush to, we barely look at each other.
The virus-fighting essential products in the shops, such as peroxide, bleach, hand sanitizer and toilet paper, are either sold out, or only allowed one purchase per person. I was so desperate to buy peroxide that I paid $40 for four bottles on ebay — the cheapest sale I could find online. We cannot buy face masks anywhere here! Luckily I had bought a dozen of them in Indonesia. Toilet paper gets delivered to our local Target a few times a week. It sells out within an hour or so.
Walking the streets at rush hour, I heard loud funk music coming from behind me. I looked over my shoulder. It was a man riding his bicycle, dancing wildly, while swerving side to side, taking up the whole street. There is no traffic, and that New Yorker was in heaven.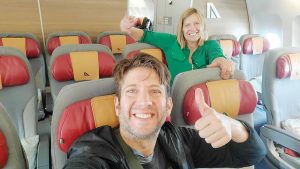 The people make New York, but now it is the people that will make you sick. Every New Yorker now knows someone who has died, is dying, or sick from coronavirus. I have friends working in NY hospitals. I keep messaging them to ask if they are okay. They all tell me their hospitals are full of coronavirus patients. 
In the last few days, Mom and I started taking walks outside. The weather is cold, but the fresh air feels amazing. We decided to start doing daily walks. We have also decided to fight this virus by boosting our immune systems. Our routine is to drink a teaspoon of baking soda each morning, diluted in water to raise the body's pH level. We then blend whole limes and lemons with water, drink it. We follow that with a cup of aloe vera juice, and then a green smoothie. We make salads and hummus, with tons of garlic. We eat pineapples, oranges and grapefruits, take plenty of vitamins, and herbs. Does it all sound like too much? We don't think so – when you live in the epicenter – when so much death is around you.
The sign at the elevator lift of our apartment building says only four people are allowed at a time, but we disregard that and don't enter if we see anyone inside it. If anyone else tries to get in, and I am with my mom, we ask them to please wait for the next lift.  
I went to the lobby to pick up a package from the security guard. He was ready to hand the box to me, but instead I asked him to just put it down — so he did. I then picked it up after he backed away. We both understood why. I want him safe. I need to stay safe. I need my momma to stay safe.
I miss Thailand. My mom misses Thailand. We will be back. I miss you Pattaya, and all my friends there.
Jason shares his travel stories and unique experiences on his popular Youtube channel, aptly named Jason Rupp.