The richest man in Thailand wants to build Bangkok's tallest building
                                                                                                                               By Cheyenne Hollis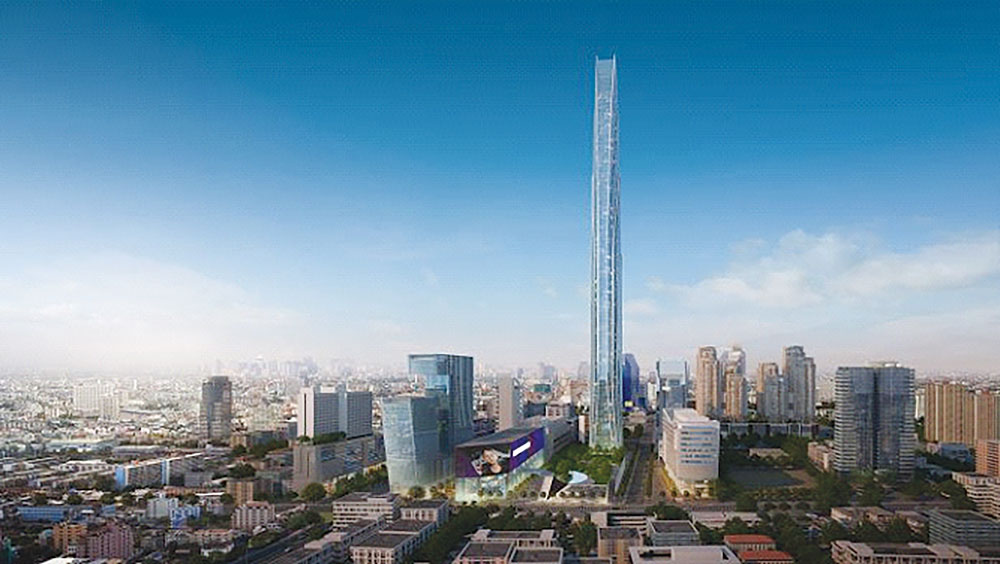 Grand Rama 9 Tower aims to be Bangkok's tallest building but could be surpassed by a new project from Thailand's richest man
There is a lot of competition to be Bangkok's tallest building with developers now looking to top one another. Thailand's richest man, Charoen Sirivadhanabhakdi, revealed that his property development company, Asset World, plans to build a massive skyscraper along the banks of the Chao Phraya next to Asiatique.
Plans for the ambitious project are scarce, however. The company did not reveal just how tall the building would be, nor have they set any kind of timeline. Part of that could be due to the fact a few other projects, such as Grand Rama 9 Tower, also want to be Bangkok's tallest building and could be daring them to announce a height first in order to surpass it.
Asset World did reveal it is working with Adrian Smith + Gordon Gill Architecture on the tower. It was noted that the skyscraper would be a mixed-use project with a hotel, office space and a retail area all incorporated into the development. Asset World said it was already in talks with several prominent hospitality brands to see who would manage the hotel upon completion.Asset World Chief Executive Officer, Wallapa Traisorat told local media "It embodies what our company aims to do — set new trends and lift the benchmark,"
Charoen's companies are already working to build Bangkok's tallest building at another location. A 436 meters (1,431 feet) skyscraper is expected to be a part of the One Bangkok, a fully-integrated district adjacent to Lumphini Park. This tower would also have office space as well as a hotel and could be Bangkok's tallest building.
The race for Bangkok's tallest building
Developers are building higher and higher as they look to hold the title of Bangkok's tallest building. At the moment, Magnolias Waterfront Residences is the city's record holder. The 318 meters (1,043 feet) super luxury residential tower is part of the ICONSIAM development. Completed in 2018, Magnolias Waterfront Residences are also located along the riverside in Bangkok.
Before that, King Power MahaNakhon was Bangkok's tallest building after being completed in 2016. The 314 meters (1,030 feet) skyscraper features an instantly recognizable design that stands out in the city's central business district.
If the new Asset World project wants to have staying power at the top of the list, it will need to keep an eye on the Grand Rama 9 Tower project which could soon be relaunched. The ambitious skyscraper would stand 615 meters (2,018 feet) if built. If being the key word here.
The project was first unveiled in 2014 but has undergone several delays as Grand Land, the developer that first announced the project, was purchased by retail powerhouse Central Group. The mall giant told local media it still has plans for Grand Rama 9 Tower and could launch the project as soon as this year.