Coming to Thailand and worried about Covid-19? A real report from someone who lives here!
By Kim Waddoup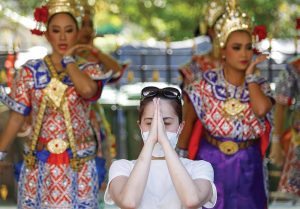 With the excessive amount of exaggerated news, it does become challenging to conclude whether one is reading or listening to truth or fiction. Whilst Covid-19 virus is worrying and needs to be taken seriously, what is actually happening? Is now the time to just stay at home, batten down and wait for the crisis to pass or is it a time to continue as normal, naturally taking additional precautions?
.
With the massive number of tourists visiting Thailand from China each year, Thailand was one of the first countries to announce a confirmed case outside of China. It does appear that the growth has been limited, thanks largely to the Chinese authorities who effectively shut down foreign travel for Chinese nationals. As of 21 February, according to the World Health Organisation Thailand had a total of 35 laboratory confirmed COVID-19 cases with 212 people either being tested for the coronavirus or still being treated for respiratory symptoms. 19 people have made a full recovery and 16 remain in hospital. No deaths have been reported in Thailand. The Government has also announced that it is prepared for worst-case scenarios just in case of an escalation.
So what does this mean to the people on the street? Bangkok's Suvarnabhumi airport is remarkably quiet. Not surprising with no flights from China and many flights to other destinations either curtailed or cancelled.
⦁ Air crews with masks
⦁ Tourists are most welcome
Masks are worn by all airport personnel and arriving visitors seem perplexed as to wear them or not. Travel into the city by the convenient Airport Rail Link and you will see about 30% of the people wearing masks and it was interesting to note a small group or school-friends, half with masks and half without. Travel, tourism, shopping, dining and entertainment appears to be continuing as normal with few masks to be seen.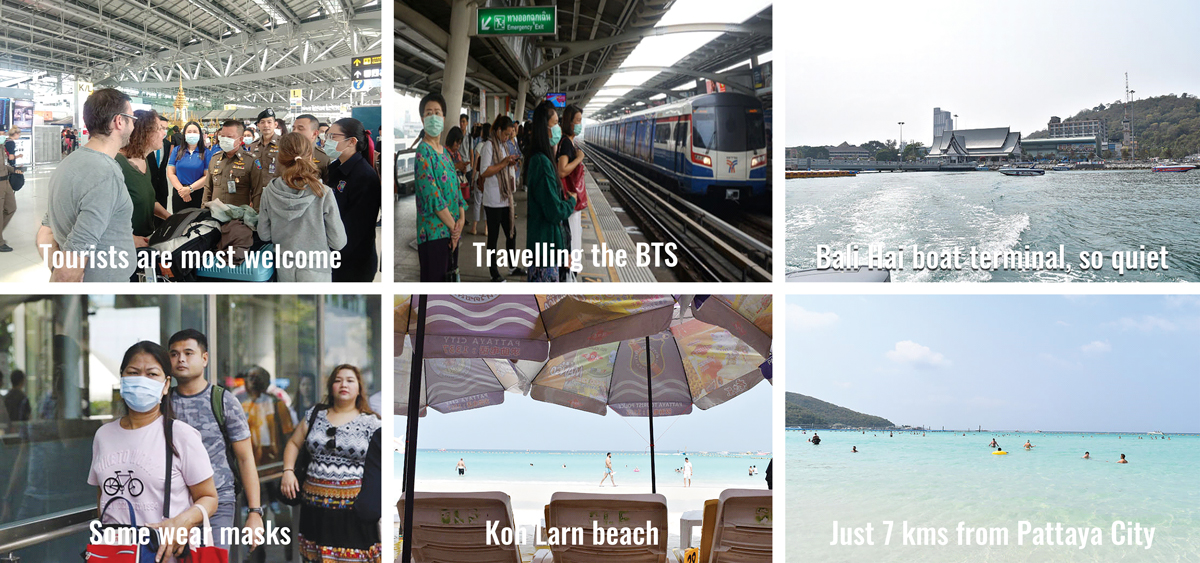 ⦁ Travelling the BTS
⦁ Some wear masks
⦁ Bangkok 2020
It should be noted that with the cancellation of Thailand's single largest source of tourism, there are substantially fewer 'mass' tourists making it a very pleasant time to travel.
Koh Samui is relatively unaffected as due to the high costs of airfares to the Island it had previously avoided the hordes of mass tourism anyway. Pattaya on the other hand has been hit massively. Without mass tourism there are virtually no busses full of tourists blocking the city, the normally congested channel between Pattaya beach and the nearby Koh Larn island is now virtually empty with only the occasional speed boat now making its way on the 7 km journey to the island. In fact, it is a wonderful time to visit the island with a plentiful supply of sun-beds available and an almost empty beach displaying it's enchanting white sand and clear azure waters.
⦁ Koh Larn beach
⦁ Bali Hai boat terminal, so quiet
⦁ Just 7 kms from Pattaya City
Nearby Jomtien Beach and Dongtan Beach remain quite busy filled with regular 'Snow-Birds', Europeans, Russians and Thai visitors.
If you have a trip planned to Thailand, you will find that you are most welcome and you will be able to enjoy this fabulous country without the hordes of mass tourism. Is it safe? Who can really tell? I would personally still travel but obviously there is the constant fear that the epidemic could escalate. If you are travelling, enjoy and just take a few additional precautions, face masks we have heard are not effective and should only be worn if you have any infection. Just wash your hands more often than normal or use the disinfectant that is readily available on all public transport and public places.
Enjoy Thailand in these interesting times!