Top WorldHotels Wellness Destinations for a Romantic Couple's Getaway
                                                                                                                                By Karen Grace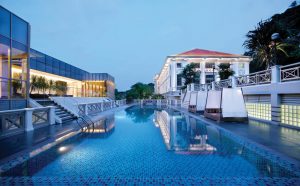 With Valentine's Day falling on a Friday this year, replace the standard chocolates or long-stem roses with a short fairy-tale getaway. From romantic city escapades to dreamy beach retreats, hit pause, take a breather from the daily grind and embark on an amorous yet rejuvenating trip.
Indulge in a mindful escape in urban Singapore.
Surrounded by lush green foliage and exuding timeless colonial charm, Hotel Fort Canning is the perfect base for spending some quality time together in Singapore. Lovebirds can experience the "Crazy Rich Asian" lifestyle this Valentine's – indulging in retail therapy at the popular Orchard Road shopping belt, savoring the very best of culinary delicacies from fancy restaurants to authentic street eats, and feeding the mind with knowledge at the city's various racial, religious and cultural enclaves.
Or enjoy a romantic tropical beach retreat on the coast of Da Nang, Vietnam
For corporate warriors who need some Vitamin Sea, the sunny coast of Da Nang, Vietnam is perfect for a weekend rendezvous. Renowned as a beach lover's paradise, the city is home to countless beaches with crystal-clear waters and soft powdery sand. Furama Resort Danang offers the ultimate Valentine's Day retreat with their Honeymoon package.experience the magical underwater world at the Cham Islands, a beautiful spot off the Vietnamese coast teeming with marine life as well as diving and snorkeling activities as a couple.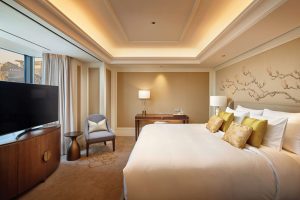 Embark on an extraordinary wellness journey in Seoul, South Korea.
Discover a different side of Seoul with a wellness itinerary that puts the spotlight on creating private and intimate moments for couples. Begin with a hike through Cheonggyesan Mountain on the scenic Wonteogol Trail, followed by a visit to Gangnam for Korean medicinal balance spa treatments at the flagship store of a well-known Korean beauty brand. For a memorable romantic experience, couples can immerse in beautiful sunset views while strolling along the Hangang River in the evening.
Experience the ultimate pampering in Lugano, Switzerland
Nothing quite like Mother Nature to rest the body and soul – say goodbye to stress and embrace the tranquil glacial lake life in Lugano, Switzerland. Couples can hike or take a funicular up Monte Bre, a small mountain considered to be the sunniest spot in Switzerland overlooking a breathtaking lake. Adventurous couples with a thirst for thrills can traverse the clear waters via a motor or pedal boat, or even try out windsurfing and water skiing. After an exciting day of activities, enjoy a relaxing spa treat at Swiss Diamond Hotel Lugano. Overlooking Lake Lugano and offering stunning views of Monte Generoso, the hotel offers a Perfect Heaven spa package for couples, which allows 3 hours in the private Spa Suite. Guests can expect to be enveloped in total relaxation as they have a couple's massage, unwind in the whirlpool tub or sauna, and sip on sparkling wine.