FAB BAZ POP - Barry Upton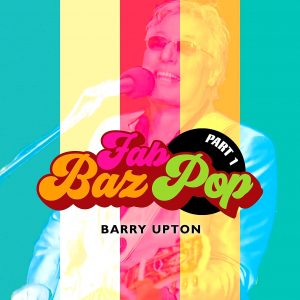 A Pattaya resident English Ex-Pat for over 10 years, Barry Upton has had a glittering and highly successful career in the music and entertainment buisiness for over fourty years.
In the early 80s, he was a frontline member of Eurovision Song Contest winners 'Brotherhood of Man' and started his prestigious run of chart hits with them, being mentored by a legend of songwriting and production, Tony Hiller, his longtime manager.
After leaving that band his successes included writing and producing for many household names, including Frankie Vaughan, The Nolans, The Cheeky Girls, The Barron Knights, Wilson Pickett and other legendary songwriters.
In '91, he scored a U.K. top ten hit via music mogul Simon Cowell with popster Sonia and again in 2002 with U.K. rock legend John Otway.
In between those, he wrote and produced a world wide hit for pop band STEPS who he also helped to form. They are still selling out arenas to this day.
'Songwriting and producing original music has always been my number one passion' says Barry, who is very well known in Pattaya for his decade of radio and TV presenting for Pattaya People Media Group.
To this end, he put aside a recent feature film project he was writing for (to be resumed very soon) and put together, in his own recording studio facility, a newly worldwide released album FAB BAZ POP, administered by Nova Distribution U.K..
'It's a fun collection of different popular styles, but all with a common singalong thread of easy to grasp hook lines and lyrics'.
'All the songs in this two part collection are written from the heart but with my usual smiley, tongue firmly in cheek, take on life'.
This philosophy of Barry's is very evident on songs like The Smart Phone Song (stop staring at your phone), Trust Me I'm A Doctor (a favourite chat up line), Shopping 4 Shoes (a lady's favourite pastime), Touch Me (well…) and 27 Again (the age he always says he is).
Songs like Middle Ground (Divided) have a more serious message and the opening title, Luv Rockz, shows up the more raucous side of Barry's music, as well his ability to purposely miss spell.
Barry harnessed some local talent for this project in the form of the ever popular Rose, Marina Perfileva and Nicole Gleza on female backing vocals.
Otherwise, as well as a few session appearances from some top musicians from the U.S.A., Barry has played all of what is heard on this album himself together with performing all the rest of the vocals.
FAB BAZ POP is in two parts with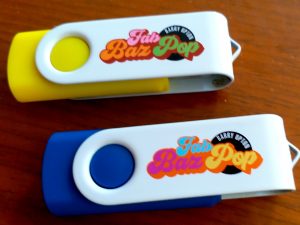 fifteen new original songs/tracks on each and is available on download worldwide at every major digital music purchasing facility including iTunes and Amazon.com (where you can hear a short sample of every track).
Barry has also produced copies on dedicated USB sticks exclusively available here in Pattaya including all thirty songs.
To be a proud owner of this dramatic musical leap from cassettes and CDs to current day technology, contact Barry directly on Email – [email protected]