Saranchol – Wong Amat Beach - Choose the best!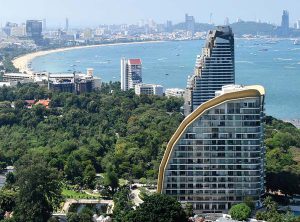 by Heiner Moessing of Siam Properties
There are lots of nice large condos in Pattaya, there are Duplexes, Penthouses…..and there is Saranchol – simple as that!
It's a tower with 37 floors that only has 97 units. You can find similar towers with 500 or more units, they will mostly be just 36 to 44 sq.m. in size The "smallest" unit in Saranchol is 165 sq.m and the largest Type "B" 340 sq.m.These Type B units are not only the largest 3 bedroom units in the building ( I don't even know of any other 3 bedrooms units in Pattaya/Jomtien that are larger), their position in the building also provides breathtaking views over the whole of Pattaya City and Pattaya Bay. Depending on the floor and the weather, the view can even extend as far as Bang Saray.So after buying your unit you will find yourself with only 96 neighbors – the majority being wealthy Thai nationals who may also own several other properties in Thailand and around the world.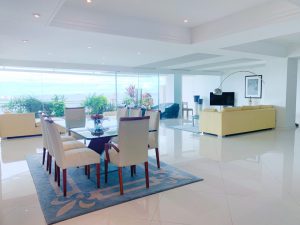 This unit is on the 36th floor, fully loaded and ready to move in. It comprises 3 bedrooms and all have access to the balcony.It is a corner unit, so the view at the back stretches all the way over Naklua and across Laem Chabang. And when opening doors and windows you enjoy such great cross ventilation that you will completely forget the need to use the air con.The building provides top security (and I mean TOP), stand alone park house (I never had to use an upper floor) well maintained gardens with a large pool and direct access to the beach.My customers who have bought condos at Saranchol and also my friends who live there, say that this is the final destination,once you live there you only need to stop and look around you – if you wear a Patek Philippe watch, do you really need another time piece?
When you drive through the gate, park you car, take the elevator to your unit you don't just go to your condo – you come home!
Priced at 57.9 M Baht
For viewings call Heiner 081 861 19 07 or send an e mail to info@siamproperties