Safe and Happy Fishing (ANYWHERE)
                                                                by Chris Millar The Highlander. Future Image Dublin Member

When organising a fishing trip or a day out by the bank it's important that you think about your safety as well as your fishing gear. Even on a day out at a fishing lake where you turn up and everything is supplied, it's important that you always think "SAFE"
Fishing in Thailand is brilliant but when it comes down to visiting a hospital then that my friend is a totally different story…. Here are a few a top 10 tips to make sure your day out is a fun packed day of landing your own personal records.
Always check the safety of the location including expected conditions. This includes checking expected weather conditions prior to heading out, if a storm is coming, stay safe and stay at home. High tide & wind conditions can also be dangerous when rock fishing. Don't risk your safety and do not go fishing or near waterways in bad weather or a storm. It's also a good idea to check with locals in regards to local conditions if you're fishing somewhere new, the locals can sometimes give you a heads up about conditions you may not have predicted or expected yourself.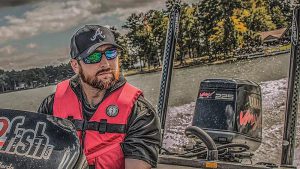 Always learn how to unhook a fish safely before going fishing. If you're lucky enough to catch something, you're going to need to unhook it safely and learning the best practices to keep both you and fish safe is essential. Learning safe ways of unhooking fish is essential in reducing your risks of cuts and piercings.
Wherever humanly possible, fish with a friend. The old adage of safety in numbers applies to fishing. I was once on a fishing trip where a mate hooked both his thumbs accidently and needed the emergency room. Unexpected things can happen and if you get into trouble you're going to need help. So it's best to drag along a mate or relative wherever possible. ALWAYS let somebody know the location of your fishing trip, who you are going with, and an approximate time you will be back.
If using a boat to fish, your most important piece of boat safety equipment is your life jacket. For optimum fishing safety, make sure each passenger or angler wears one, too… No Heroics.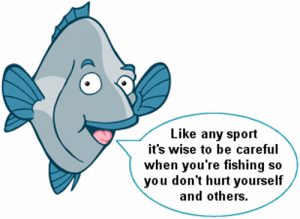 Don't fish in areas where it is not permitted. These areas have been declared "off limits" to protect wildlife, vegetation, or for your personal safety.
Bring along extra safety items such as water, flashlights, maps, and a cell phone or radio.
Always wear foot gear appropriate to the conditions.
Stay dry, warm and protected from the elements. Wear a waterproof sunscreen with an SPF (sun protection factor) of at least 15. Wear thin layers of clothing that progress outward to include water and wind protection as the final layer.
Use appropriate insect protection measures, including proper clothing and repellents.
Keep fishing knives sharp and cover the blade when not in use and use caution when baiting and removing hooks
Apply these simple safety procedures for fishing to make your fishing experience worry-free and great fun.
Tight Lines and Stay Safe