Where should I go when visiting London?
                                                        – WESTMINSTER ABBEY
                                                                    By Gloria Jones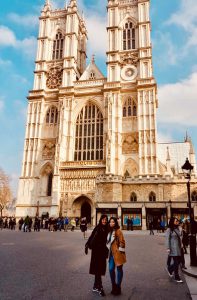 If you're planning a trip to the UK and have some time to spend in London you really should visit Westminster Abbey. It is a must see pageant of British History where no fewer than 16 royal weddings have taken place, the most recent being that of Prince William to Kate Middleton on the 29th April 2011. It has also been the scene for nearly every British monarch's coronation starting with the crowning of William the Conqueror way back in 1066.
I visited Westminster Abbey last year and have to say that there is something truly awe inspiring (and that is not an adjective I use lightly) about stepping into its gothic splendour.
Entrance will set you back the princely sum of £20 but before you run, take note that this also includes the use of a headset and multimedia to accompany you as you walk through the Abbey. I know many other museums offer this as an optional extra but I believe the organisers have done exactly the right thing insisting that everyone who visits takes this multimedia device.
First of all it is beautifully produced with narration by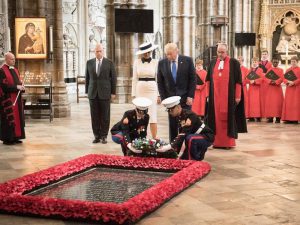 Jeremy Irons and music from the famous Westminster Abbey with plenty of facts and historical information but also there are practical reasons for using it. Firstly, In order to funnel the many visitors through the long aisles it is important that a one way, thought out, route is adhered to – otherwise there would be chaos. Also there really is so much to see you need the numbered route to ensure nothing is missed.. Finally by having everyone wear headphones and listen to the commentary you ensure that voices and general noise is kept to a minimum as should be the case. Even the normally garrulous,loud Donald Trump was hushed to respectful tones when laying a wreath at the tomb of the unknown warrior during his recent UK visit.
After all there is nowhere else quite like it in the world, a place where you can tread in the footsteps of Kings and Queens usually only referred to in history books. The Coronation Chair alone is a story in itself. It is one of the oldest pieces of furniture in the world having been made for King Edward the 1st in 1308 and featured in a marvellous scene between Colin Firth and Geoffrey Rush in the great film "The King's Speech" .
As you explore the venue's amazing period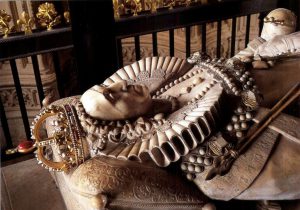 architecture with its vaulted ceilings, sculptures and stained glass windows you will come across another famous part of the abbey "Poets' Corner" where over 100 poets and writers are either buried or commemorated. These include include Chaucer, Dickens, Austen and Byron and one of the greatest actors ever Sir Laurence Olivier who has his ashes buried in front of the memorial to Shakespeare.
Certainly seeing all these names with other amazing famous figures also buried in the abbey such as Sir Isaac Newton , Charles Darwin and David Livingstone really brings out a sense of latent patriotism in every Brit. I was personally surprised at the emotions my visit to the abbey evoked in me the most powerful being those I felt when entering The Lady Chapel which houses the shared tomb of Elizabeth 1 and her half-sister Mary 1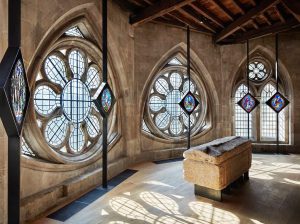 Since my visit there has been an unveiling of another important part of Westminster Abbey They say good things come to those who wait. But if you've been waiting to get a glimpse inside Westminster Abbey there is a hidden gallery that is now open to the public for viewing since being built, way back in the 13th century.
For many years this gallery: The Triforium was essentially Westminster's attic, used as storage space or as a spillover viewing gallery for coronations. It even served as the BBC's outpost during Queen Elizabeth's coronation, as Richard Dimbleby narrated the affair to a captive TV audience from here. Now it has been rebranded as The Queen's Diamond Jubilee Galleries and the space has undergone a £22.9 million refit. The Galleries are 16 metres (52 feet) above the floor of the abbey and you access them via the Weston Tower. As you journey up to the galleries you will see amazing views of the Palace of Westminster and the medieval Chapter House.
Inside the galleries there are 300 objects including the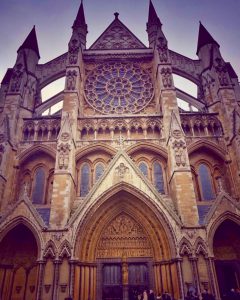 coronation chair of Queen Mary II, the marriage license of William and Kate, the Liber Regalis (essentially the rulebook of royal coronations), and a full replica set of the crown jewels. This makes it a stunning addition to Westminster Abbey and also affords the view back across the nave described by poet John Betjeman as the best in Europe. There is an additional entry charge of £5 to reach the galleries, children under 17 go free..
Westminster Abbey is located at
20 Deans Yard, Westminster, SW1P 3PA
Nearest tube station is Westminster.
Opening hours 10am-4pm (Monday to Friday), 9:30am-3:30pm (Saturday).
Closed on Sundays.