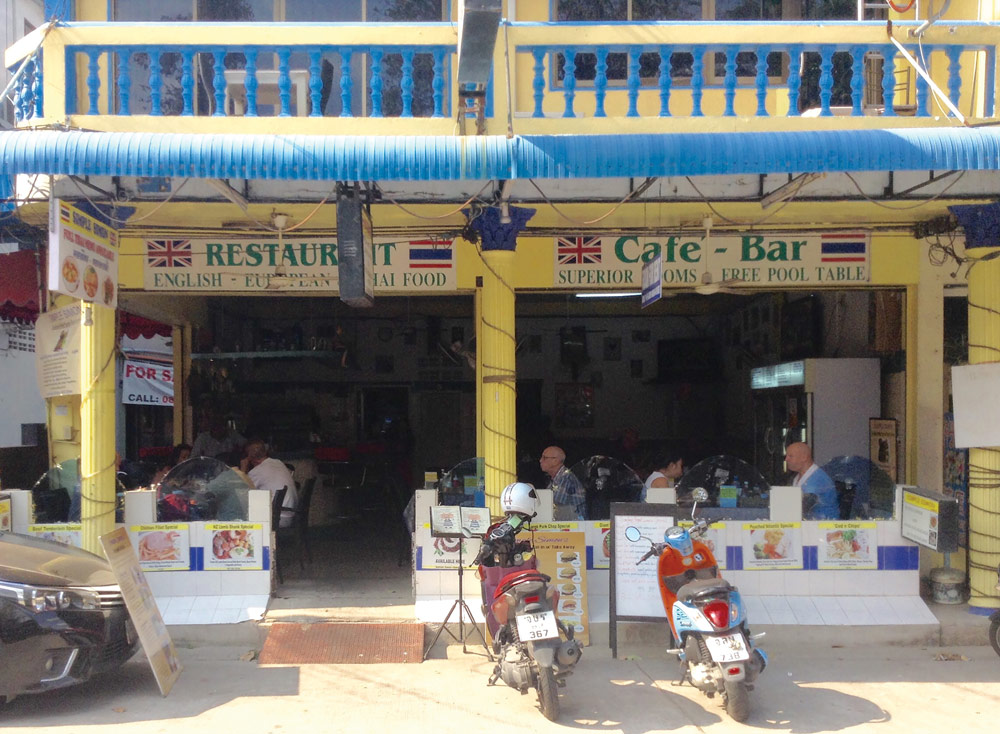 Simple Simon.
Simple Simon is on Soi 5 Jomtien (the Immigration Soi). You probably already know them for their fantastic full English breakfasts – a tremendous hangover cure if ever there was one and yet there is . much more on the menu to enjoy. For example they offer UK style Chinese and Indian food and have recently introduced some new dishes as weekly specials. These include smoked salmon fishcakes at only 220 baht spaghetti with meatballs and succulent slow cooked barbecued ribs just 240 baht. Keep an eye out as there will be more options added to supplement an already full menu of British staples, staples such as "Bangers and Mash" and fish and chips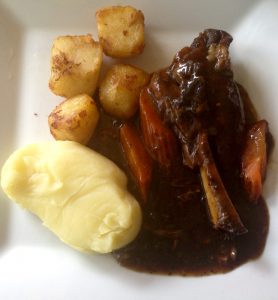 where you can choose from either Dory at 185 baht or Atlantic Cod at 230 baht, beer battered with chips.
There are also many Thai dishes but we were there to try the Sunday Roast. With a selection of lamb, beef, pork and chicken all available we were spoilt for choice but advised to go for the newly introduced lamb shank which we took with a chicken and pork option. The roasts automatically come with both creamy mash plus roast potato and plenty of vegetables. On the Sunday we were there these were carrots peas and broccoli. A pig in its blanket (sausage wrapped in bacon) stuffing and a yorkshire pudding completed the plate! I also love a traditional sauce with my roast and it was very pleasing to see that both apple sauce for the pork and mint for the lamb were automatically brought to the table without being asked for, together with extra helpings of gravy – heaven ,the meals themselves were very pleasingly plated with reasonably thick slices of the chicken and pork (I hate thinly sliced "school dinner"  servings of roast meats).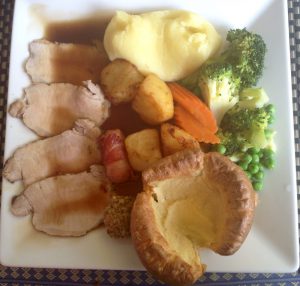 Everything was brought out piping hot and perfectly cooked In fact if you fall in love so much with the sausage and bacon you eat at Simple Simon's you can buy some of exactly the same quality to take home and cook yourself. At the fridge and freezer cabinets to the side you will also find ready meals such as delicious chicken curries from as little as 115 and a 400gm serving of lasagna for only 165 baht.
So don't just visit Simple Simon, for breakfast try a roast on Sunday served from 12pm until 9 pm when you will also be able to accompany it with a glass of either red or white wine for only 99 baht