Lombok Indonesia a tranquil escape
by John Borthwick
The Gili Islands are an escape from an escape — three snoozy-not-too-boozy dots that drift just off Lombok Island, which in turn floats just east of Bali.When compared to the monster mosh of southern Bali, Lombok rocks quietly, with relatively few tourists and no thumping party scene. Think of it as Bali Unplugged. Its main tourism enclave on the west coast around Senggigi Beach hosts a modest strip of international resorts, restaurants and bars, but for some travellers even this is too "developed." They head to an even farther shore, the Gili Islands.
Just minutes' ferry ride from Lombok, the Gili Islands — Air, Meno and Trawangan — are an escapologist's dream. The first time I visited them, yonks ago, a simple room with bed and mozzie net cost US$10 a night, even if its 25-watt light was so dim that I had to replace it with the 75-watt bulb that I carried for such Indo occasions.
This time we sample the more upmarket Vila Ombak on Gili Trawangan. At 10 times the price I paid in 1996, it also offers 10 times the facilities — pool, bar, honeymoon suites, air-conditioning and a beachfront restaurant. In the latter, the menu has come a long way from those early, post-hippie offerings of jaffles and mango smoothies.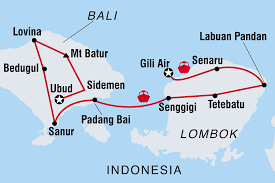 Beyond fresh seafood and deep cocktails, the Gili Islands' main promise is still simply the moon and stars, beaches, snorkelling and scuba diving. Women travellers seem particularly comfortable here, there being fewer bogan hoons or wannabe studs pestering them. In two hours you can walk right around the coral-strewn shoreline of Trawangan — at 340 hectares, this is the "big island" of the trio. Time your arrival on the western side to coincide with sunset across the Lombok Strait, then sink a well-earned beer as the sun is swallowed by Bali's sacred volcano, Mount Gunung Agung.
Back on Lombok, it's worth hiring a car to see this large, 80-km wide island. There are white sand and black sand beaches, coconut plantations, tribes of monkeys, village markets, forested ranges and the volcanic, 3,726-metre Mt Rinjani. Paddy fields are everywhere, of course; one writer neatly described Lombok's brilliant, baize-green rice terraces as "like a flight of billiard tables."
Lombok differs markedly from Hindu Bali. Ninety per cent of its of three million people are Moslem, with their own distinctive, easy-going "Sasak" culture. Think of it as Islam Unplugged. Some folk still travel by cidomo — a canopied cart pulled by a diminutive Timor pony. "Very small, but very strong horse," a driver assures me. No doubt, but I'm in a hurry and take a taxi.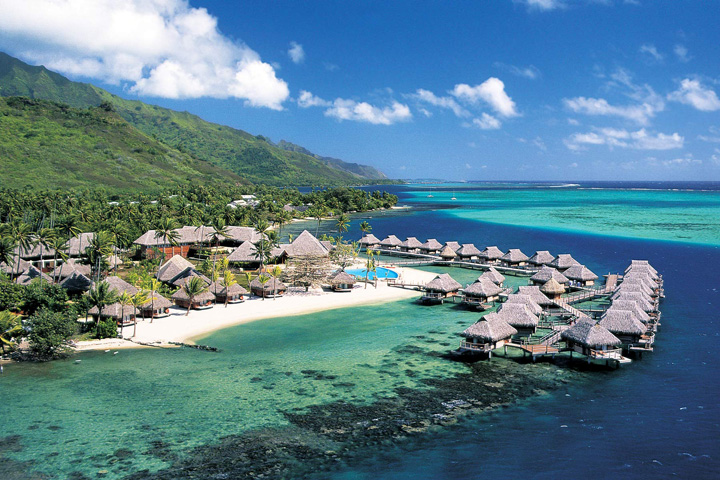 Senggigi Beach Hotel offers a front stalls view across to Bali, Gunung Agung and those flamboyant sunsets. What else is there to do here? Well…"Senggigi is the perfect place for reading books and making babies," the hotel manager noted.
Penujak village in southern Lombok specialises in earthenware pottery of export quality. As soon as we step from the car, a group of giggling schoolgirls ambushes us, each one selling little bird-shaped clay whistles. Just what I don't need — but how can one say yes to one child and no to five others? So, buy six.
Nearby Sukarara village has a weaving centre that specialises in traditional ikat and songkat weaves — all done on back looms by young women. The intricately woven Sasak motifs, usually of birds, flowers and granaries, are passed from mother to daughter. According to tradition, if a girl does not learn to weave her matrilineal designs she cannot marry.
Someone invites us to a wedding party. It has been going on for a week already, with another week to go. We eat sticky rice and banana fritters, drink rich, strong Lombok coffee, listen to some exuberant local kuchimol music and then wander off, never actually spotting the bride and groom.
Lombok's far southern coastline is like a beautiful, convoluted computer graphic. The fractal curves of its beaches form a lace of headlands, coves, lagoons and surf. The best place to see it all from is the lofty hilltop restaurant, Ashtari. Delicious food, astonishing views.
Lombok's second most famous shore shares its name with Bali's most famous one, but this Kuta Beach has no pub crawl buses and very few prowling watch-floggers. The island capital, Mataram is a low-rise, low-key place with more cidomo carts than any remarkable virtues or vices. There are several Hindu temples (western Lombok was once ruled by Bali), including Pura Narmada Water Palace built by a Balinese king around 1805, supposedly as a fountain of youth.
Two cautions: Don't sunbathe topless on Lombok's beaches — this isn't Babylon Bali. And don't drink local spirits at cheapo bars; too often they are cut with potentially-fatal methyl alcohol.
Lombok might lack the elaborate rituals of Bali but there are always surprises. A house might even run you off the road, as I once discovered. Deep in the interior, as we drove through a village, our path was blocked by a "house moving" party, literally. Forty men and boys had picked up their communal meeting-house and, chanting vigorously, were carrying the large wood and thatch building far up the road to its new site.