Tiger Tiger Burning Bright.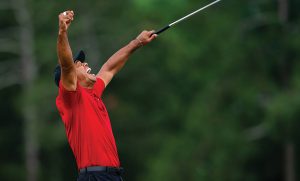 By Steve Wade
Tiger Woods completed one of the greatest comebacks in sport last month when at the age of 43 he won the Masters at Augusta. He completed a final round two under par 70 to take the title after taking control of the tournament on the final nine holes where he outplayed and out thought his rivals down the home stretch.
Some commentators are calling it the greatest comeback of all time, although I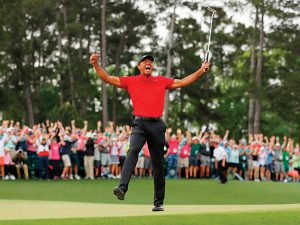 think the ghost of Mohammed Ali might have something to say about that. Nonetheless, it is a remarkable achievement when you consider the problems he's faced over the last few years. Leaving aside his personal problems for the moment, what he has had to overcome on the injury front alone is a testament to his fighting spirit and will to win. Three knee surgeries and four back surgeries, the fourth of which was a desperate last gasp trip to the UK to see the one specialist who could possibly help him by performing a fusion operation. Months of rehab and hours and hours of practice got him back to where he is now and where is that? Back in the top ten in the world, his fifth Masters and fifteenth major title in the record books to lay only three behind the Jack Nicklaus held eighteen majors record and amongst the favourites for the three remaining majors coming up over the next few months. Speaking of which, I read an interesting article where they interviewed his long time ex-caddy Steve Williams and he noted that if you could hand pick three courses where Tiger would have a chance to win it would be Bethpage Black, venue for the USPGA this month, Pebble Beach, scene of his crushing fifteen shot win in the 2000 US open and many other victories and Royal Portrush in Northern Ireland, home to this year's British Open and a practice ground for Tiger for many years when he went over to contest the oldest major championship.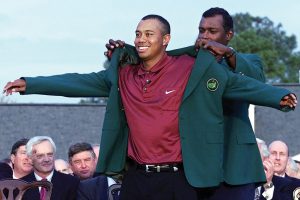 Tiger can't be ruled out of any of this year's majors, and will go to the Masters with a leading chance for another three years at least if his back holds out. So the once unthinkable possibility of Jack's eighteen major record being equaled or bettered is not the forlorn hope it once was. He will obviously plan his whole schedule around a few leading tournaments, which will help, but eclipsing the Great Jack will still be a mighty tall order.
Finally, I have noted in the past how long it takes child prodigy sports stars to grow up, and Tiger is no exception. Driven and focused on nothing else but golf since early childhood, his recent troubles look like they have turned him into a much nicer human being, and the outpouring of affection as he came off the eighteenth at Augusta reflected this. So good luck to him and long may he long continue. The game of golf needs him!