This month's dining in detail comes from The Dino Pool and Bar,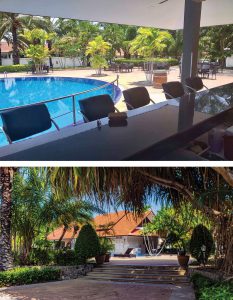 situated in the beautiful View Talay Villas estate on Jomtien Second road, directly opposite Soi 5 and immigration. This hidden gem has the best pool and bar facilities in all Jomtien and boasts a beautiful large pool with a separate area for children, so as to be suitable for families. Surrounded by tropical greenery, the pool has lots of space for sunbathing, swimming and al fresco dining. Dino's has a fully air conditioned lounge to cool off in and a full menu of Thai and European food, as well as a fully stocked bar with reasonably priced drinks and the essential cold beers!
The Dino Pool and Bar is the ideal location for private parties as they can take care of all your food and drink requirements on the day you choose. It's also a great location to bring the family if the beach gets a little too crowded. Open from to seven days a week, it really is a great place to spend a day in the sun. Please call the number below for any enquiries or bookings.