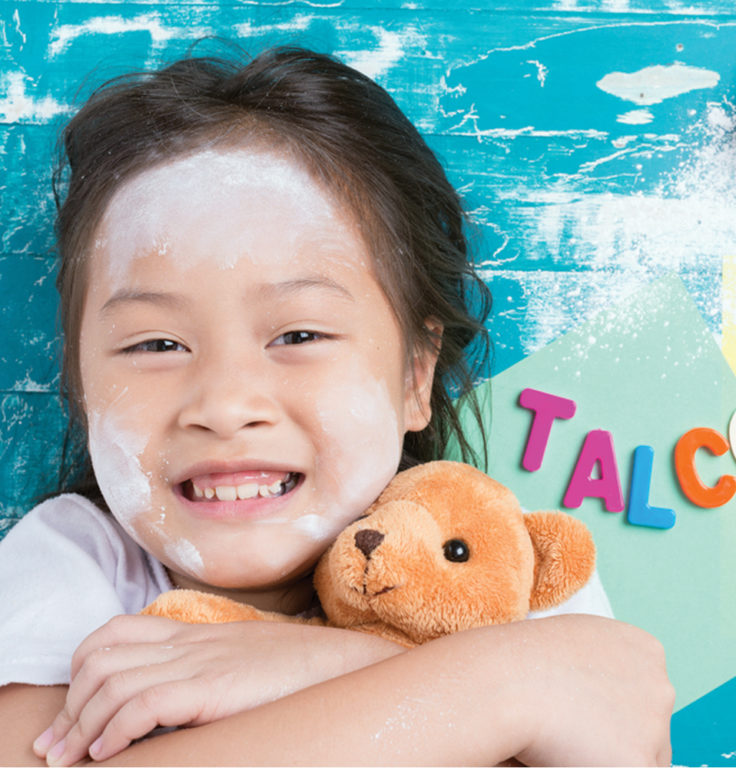 Talcum powder or hydrated magnesium silicate to give it its chemical name is the softest known mineral mined from rock deposits. When it's finely ground, talc creates a smooth and silky powder that absorbs moisture, reduces odours and cuts down on friction.
This makes it ideal for use in powders, for example baby powder where it can prevent nappy (diaper) rash. However, it is important for consumers to be aware of the potential risks and in fact in August 2022, one of the largest manufacturers: Johnson & Johnson announced that it would discontinue its talc-based baby powder globally in 2023 
There have also been several studies in women who apply talcum powder regularly looking at the possible link between talcum powder and ovarian cancer. This has led the International Agency for Research on Cancer (IARC) to classify talc contaminated with asbestos as carcinogenic to humans when applied in certain areas.
Certainly for employees working in industries where there is long term exposure to natural talc fibers there are increased risks of lung cancer. This has led the IARC recommending not to put talcum powder which contains asbestos on the face or to breathe it in as when inhaled, talc that contains asbestos can cause cancer. 
Here in Asia when the temperatures start to sore, talcum powder is especially popular, used as a deodorant and also on the face to absorb perspiration.The best advice is to tread with care, and be sure to know exactly what you are buying and using before you do so. 
Carefully read safety advice as stated on the product packaging, and avoid applying talcum powder to facial areas, rubbing it into the skin or inhaling it. Wherever possible go for asbestos free or even talc free powder. As more light is shone on this product it should hopefully become more easily available world wide until then take care.