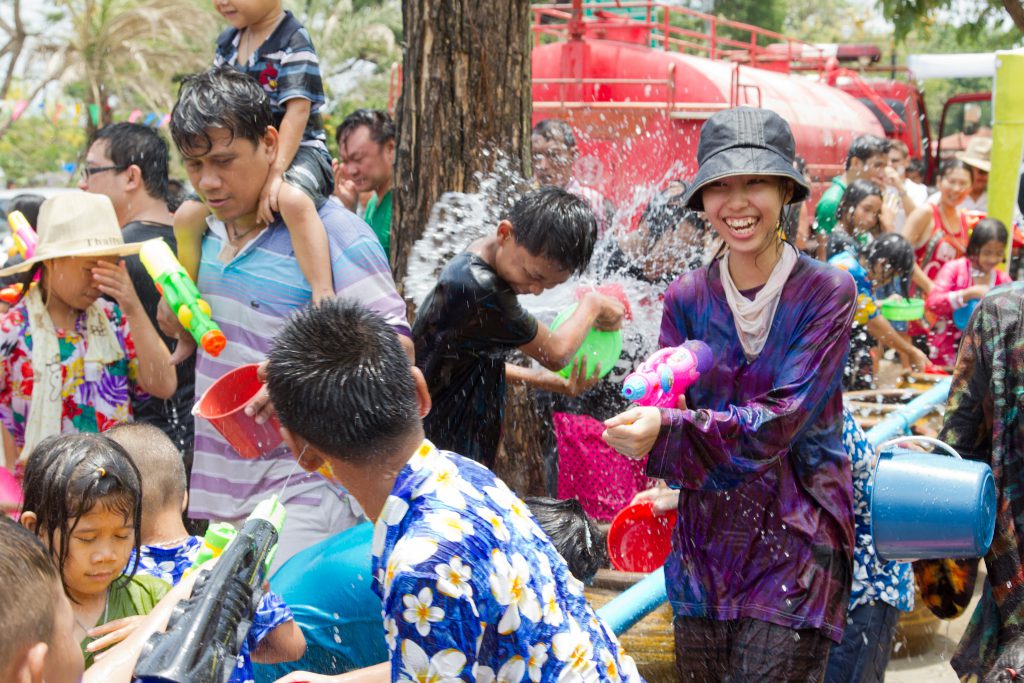 Our Top 5 Tips for Songkran Survival
Like all countries New Year is celebrated throughout the land. However in Thailand rather than just an overnight celebration, it officially runs from the 13th to the 15th and  this year, due to the dates falling at the weekend, may well extend for many places to the 16th and 17th and in Pattaya even longer!
Love it or hate it – and many do hate it -enough to leave the city during its duration, Songkran is a mega party. Drink flows and so does the party right into the streets. Even the most normally timid of Thais may lose their inhibitions and show no mercy,  insistent on blessing you water, chalk or a powdery paste smeared onto your face..
Consider it the world's biggest water fight and you're halfway there. f you head outside YOU WILL GET WET as trucks carrying revellers armed with water guns, cannons buckets etc etc will be cruising the streets with the sole purpose of spreading water.
If you pass through an area of bars the effect is multiplied by the inclusion of ice cold water as the revellers enjoy seeing the reactions they get to freezing cold water being added to the mix.
SO TO PREPARE YOURSELF HERE ARE OUR 5 TOP TIPS:
1)PROTECT YOUR VALUABLES
If you must take them out rather than leave them at home you should keep your valuables in a secure waterproof plastic bag.You will find custom-made plastic pouches that can be worn around your neck, expressly for the purpose of carrying your phone from 7/11s and many other stalls and shops around Pattaya.
2)AVOID RIDING YOUR MOTORBIKE
Although a car may get water thrown at it or smeared by powdery hand prints, riding a motorbike at this time of year is infinitely more hazardous. You are still considered a target and as there will be no regard for your safety you will have water thrown at you which could, of course lead to accidents and a spill – in more ways than one!
3) DON'T TAKE IT TOO SERIOUSLY AND DON'T LOSE YOUR TEMPER
People are going to throw water and will usually be smiling at you as they do so. You must keep a big,wide smile on your face as well. If you lose your temper and lash out, officials will take a dim view. You are expected to enjoy the locals' celebration of their new year and take Thailand's Songkran festival in the spirit of good fun.
4) PREPARE YOURSELF BEFORE YOU GO OUT
Remember YOU WILL GET WET so wear clothes that are going to be comfortable. Synthetic fibres can repel water better and dry faster than clothing made from cotton and natural fibres which will retain water and stay sodden. You might also consider picking up a cheap disposable raincoat from Family mart etc.and make an effort to not wear your Sunday best! Remember because of the aforementioned chalk and powder being thrown and also the fact that some of the water may not be terribly clean, your clothing could get ruined. So remember our tip no 3) and wear something of little value.
5) GET OUT OF DODGE
You can escape completely either by planning to get out of Thailand altogether or go visit a different part such as Chiang Mai, Samui, Koh Chang etc where the celebrations do not go on for so long. If horror of horrors you have to work or go out for essentials then get up early and try to get as much done in the mornings as possible, when most revellers will still be nursing their hangovers from the night before. Go sit in a cinema, walk around shopping malls or visit some of the international hotels who will celebrate with a more traditional. family-friendly Songkran. Or simply stay at home and get your provisions in. Takeaways such as those from Nick the Pizza on our Dining in Detail page may well be the order of the day.
Whatever you choose have a Happy Songkran Sawasdee pi mai!