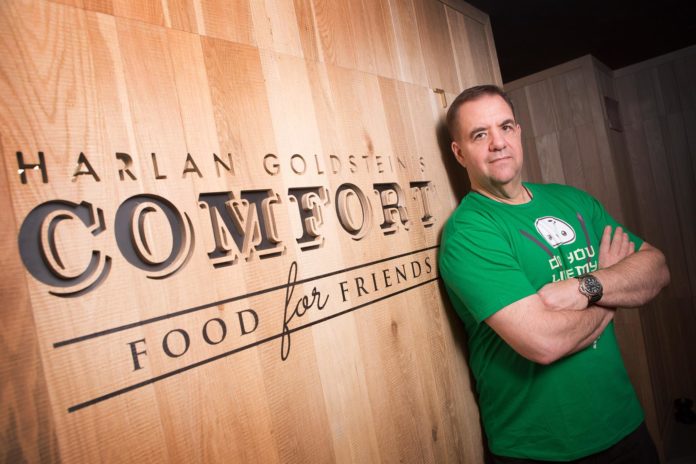 Hong Kong Michelin Chef Harlan G Lands in Pattaya
by Terrence Collins
There's a new "Chef in town" that's all I kept hearing from friends and social media. So eager to see for myself what all the hype was about, I promptly booked a table for two at COMFORT on Kasetsin Soi 2, Cozy Beach. And what a pleasant surprise I found, The Chef Harlan Goldstein, someone who could be described as a global chef as his cooking style and menu has been heavily influenced by his travels around the world, Hawaii, New York, Hong Kong, Beijing, Italy & France to name a few,
At the moment the menu is limited, understandably as the restaurant is just newly opened and the chef is no doubt feeling out his clientele before he commits to a full menu, but one thing is for certain this guy knows how to cook. So much so, I've heard rumors of many local restaurateurs popping in to check out the new competition in town, so people are talking already, checking out the new sheriff in town.
As I stated above the current menu is limited but no need to fret, Harlan is in the kitchen and on hand to assist with your order. After very little prompting and informing the chef of our dietary preferences, we opted for the chef's surprise tasting menu priced at 1,800 THB per person, which comprises of 7 courses. But as a guide you can order of the A la carte menu, appetizers between 200-300 THB main courses 450 -1,100 THB
After a few cocktails the tasting menu started with an amuse bouche, crostini of chopped liver "Traditional Jewish style" prepared with schmaltz (rendered chicken fat) and topped with caramelized onions, oh so good, just like my mother used to make!
Then we were served crispy potato latkes (pancakes) topped with smoked salmon and a generous helping of caviar, by this time we were profusely salivating in the knowledge that we are in for a real treat. The after a short wait, a mini mezze plate arrived of beef koftas, falafel, hummus and Harissa paste, which delivered a welcome punch of exotic flavors, unique to the chef's Middle Eastern roots.
After a few more cocktails, we ventured from the Middle East to the Mediterranean and were offered tender baby squid stuffed with chorizo on a base of tomato sauce, quickly followed by squid ink pasta cooked al dente. Which reminds me I have to try more pasta next time I visit as it was "oh so comforting" – if you'll pardon the pun !
The main course comprised of "simply to die for" lamb chop Milanese coated in pecorino cheese and panko crumb, my favorite dish of the night in fact. By this time, we were pretty much full to the gills and feeling like Mr Creosote in the Monty Python sketch, where the French waiter says: "just one more mint, it's a wafer thin"
Harlan being a professional host could see that we were struggling so kindly suggested we wait 10 minutes for desserts. We happily agreed and before disappearing behind the kitchen counter he promised to prepare something special for us.
Although it was a tasting menu, we made a request for two different desserts, so as to share, and the chef was happy to oblige. First came, dark chocolate gelato, served in a martini glass with cookie crumb and a delightful vanilla foam, the stuff chocoholics dreams are made of. And finally, the last stop on our travels, to the good ole, USA and Harlan's signature dessert of toasted salted custard French toast with maple syrup, it's a shame the restaurant isn't open for breakfast as this is a real crowd pleaser and some people I know would say this should be made available 24 hours a day by law.
For me a restaurant is mainly about the food, I am just as happy sitting on a plastic stool slurping on a steaming hot bowl of noodles as I am fine dining with silver cutlery and petit fours but sometimes a restaurant's concept stands out and leaves a lasting impression on me. In fact I don't know exactly what it is that I like most about this establishment ? The staff are genuinely friendly and accommodating the ambience and decor kind of industrial rustic whilst at the same time kind of flamboyant and the toilets! Well go check them out for yourself – best described as the work of a mad man. But I think the stand out attraction for me is the sheriff himself, Chef Harlan, who ensures your needs are taken care of from the moment you walk in the door until he bids you farewell.A true host who takes care of you like you're an old, long lost friend with plenty humor, antics and flamboyancy thrown in.
I predict, this is going to be the number 1 party restaurant in Pattaya as the slogan says
Comfort by Harlan "Food for Friends"
So I wish the sheriff the best of luck in his new town and let's thank our lucky stars that we are fortunate enough to have this exciting new restaurant open in our beloved Pattaya.