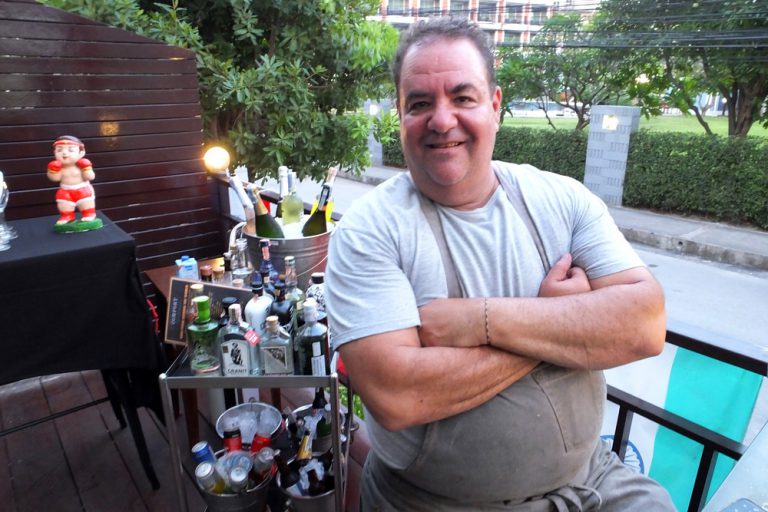 Harlan Goldstein, Owner and Chef of 'Comfort By Harlan.
Award winning Chef of Goldstein is of Russian-Jewish origin, he grew up in NYC, won two Michelin stars in Hong Kong, and now resides in Thailand as an expat restaurateur. Comfort by Harlan was created around his 38 years of global travel, his experience as an expat 'super chef', and his subsequent enhancement of classic international recipes.
Goldstein comes across as a highly accomplished, curiously ingenious, yet casual character – as does his present restaurant. There he serves up 'food for friends', matching modern foodies tastes for familiarity with creativity over fancy-schmancy. "Cooking is an art, being a chef is stressful however it's rewarding to express yourself. The food here is the same as I love to cook for family and friends, it's perfect for sharing," he says.
Harlan presents a fixed menu of comfort food plus daily specials, the titles of which most folks will recognize. However, all dishes come with a twist, making a statement about his creativity whilst being reassuringly familiar in nature – it's a clever combination that works well, take his vegetarian lasagna for example, Harlan serves it cold, as an appetizer, with a chunky yet melt-in-the-mouth tomato-herb sauce on the side. The hand-made al dente pasta is filled with roasted Mediterranean veg, and it's topped with caviar to really stimulate your appetite. That dish pretty much sums-up Harlan's food these days, authentic with a well-conceived difference, suitably indulgent, and so exciting to order and gratifying to devour.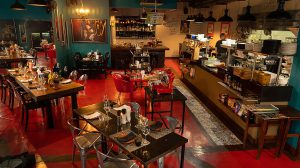 The price tag is modest considering the quality ingredients involved, and keeping in mind it's cooked up by a celebrity chef in an uplifting environment – all designed to deliver total sensory pleasure. Now at the ripe age of 58 he still cooks with much energy and charisma every evening, in full view of the whole eatery. With four local chefs as his helpers he performs in a fairly confined yet clearly sufficient kitchen that opens onto the restaurant.Add to his showmanship a well-stocked bar – filled with craft beers, fine international wines, and one of the best gin selections in town – plus a pumping soundtrack mixed with friendly service in a cosy environment, and you get a good idea about the 'Harlan Goldstein Experience' he conjures up – still you really have to be there to feel the magic in the air.
Harlan manages to balance his bold professional persona with his highly-trained chef skills. He readily admits to being a bit brash, and even arrogant about his talents, yet you know such self-accusations are actually endearingly self-effacing. The original artwork on the walls also displays as much, and reflects his distinct sense of humor -particularly in the bathrooms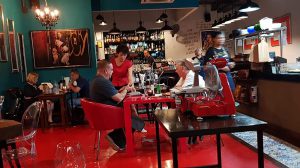 We went on a Wednesday and witnessed him making a restaurant full of new friends, whilst also making the required hard work in the kitchen look artful and almost effortless – apart from the understandable sweat on his brow.
Harlan's story began in the kitchen of his uncle's New York City restaurant around four decades ago. Who'd have thought then that he'd end up in Pattaya presenting a menu encompassing Spanish, Italian, Mexican and Japanese comfort food favorites, with a few Thai inspired dishes thrown in for good measure? "The key concept here is to make you feel relaxed and welcome," says Harlan. In our experience he's succeeding, and we felt suitably comfortable to ask him a few personal questions about his passion for cooking.
1. Who was the best chef in your family?
There wasn't a great chef in our family, and that's what inspired me to go and get into the creative world of cooking.
2. What is your fondest food memory?
Definitely Hebrew National hot dogs with golden mustard.
3. What was the first recipe you mastered?
I learned how to make sauces in the French technique at a young age.
4. What is your favorite food to eat?
I enjoy all types of food especially Vietnamese. Thai and Japanese.
5. How often do you 'play with food' to create new dishes?
You always need to innovate, be creative and think what matches together to bring out the best flavors.
6. Which chef do you admire most and why?
Jean Banchet was one of my best mentors, he passed on at 72 years old, the restaurant was called la Francais in Chicago.
7. When did you start cooking?
started washing dishes at 14 years old, and at that age I then took a training placement in a Florida kitchen. Soon after I shipped off for a formal apprenticeship at the prestigious Le Montreux Palace Hotel in Switzerland. There I quickly mastered the French language whilst working alongside a brigade of 80 French-speaking chefs. Next I returned to several prestigious roles back in the United States. Then at 28 years old I was appointed executive chef at Shangri-La's China World Hotel in Beijing. Thus began my culinary journey in Asia, which also included a fruitful two years in Bangkok to study Thai cuisine, followed by my move to Hong Kong… The rest is history
8. What was your funniest kitchen moment?
I fell into the biggest pot of soup, and almost did serious damage at the Diplomat Hotel Hollywood Florida.
9. What was the luckiest cooking moment in your life so far?
Hong Kong brought me a lot of luck, fame, fortune, and headaches.
10. How do you like to relax after a night in the kitchen?
Home playing with my four dogs, and chilling out listening to music.
Visit Harlan at Comfort by Harlan.
378/531 Moo 12, Kasetsin Soi 2, Cosy Beach,Pattaya 20260 Reservations: +66 (0)80 937 3583.
facebook page.